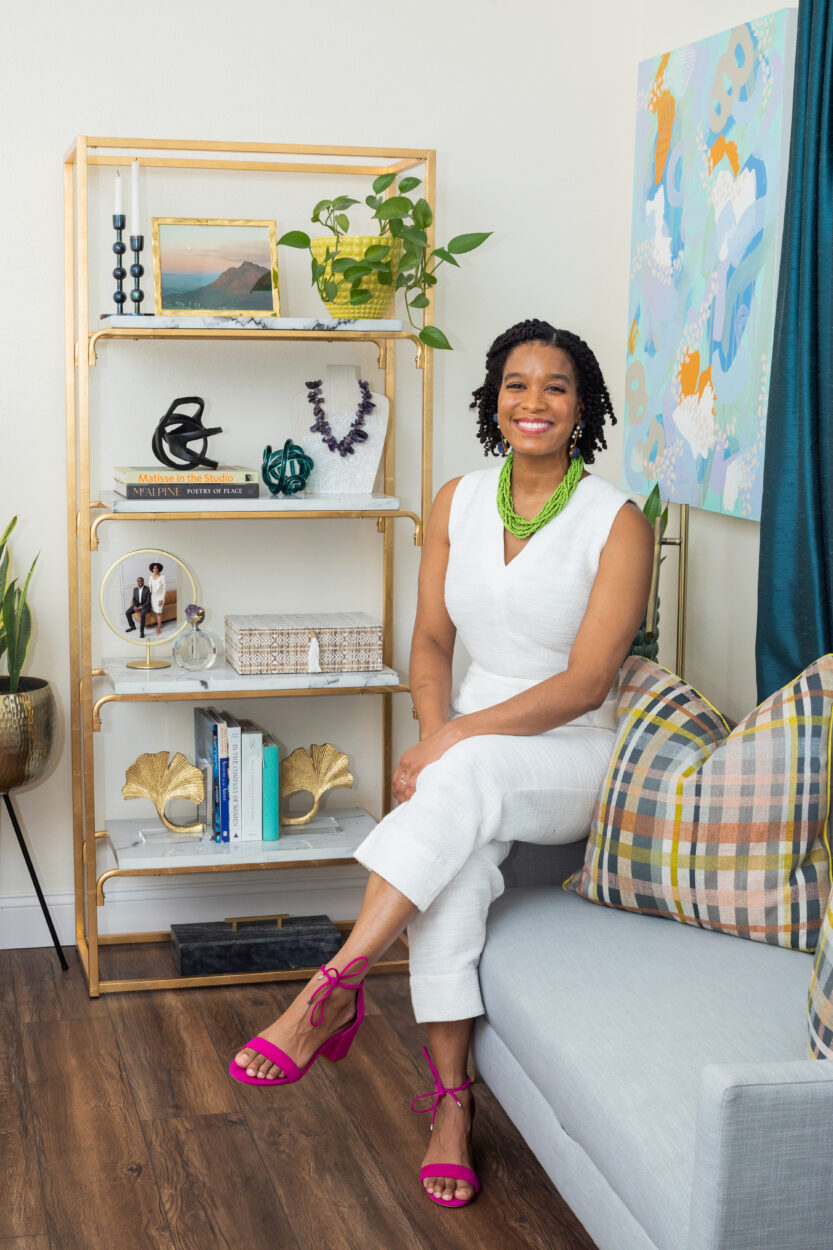 You may know that Bed Bath & Beyond has a TON of items to meet your home's needs from small kitchen appliances to pillows, dinnerware and more, but this store can also be your source for luxurious décor and furniture. After browsing the wide range of products on their website, I curated the perfect combination of décor and furniture to hit the luxe note I was looking to achieve for my bedroom refresh. Now that the refresh is complete, I am loving the gold tones and pops of color. It's just the look I was hoping to achieve.
I anchored my bedroom re-design with this gold etagere bookcase and used these two gold photo frames found here and here to coordinate with the bookshelf. To fill in the rest of my bookshelf I used coffee table blooks, plants, and small decorative objects to bring the look together. This gold bookshelf is only 30 inches wide, so it's a great option to add a touch of gold without taking up a huge amount of space. The bookshelf is quite sturdy, so you could also choose to load this piece of furniture with books if you choose or even other heavier items.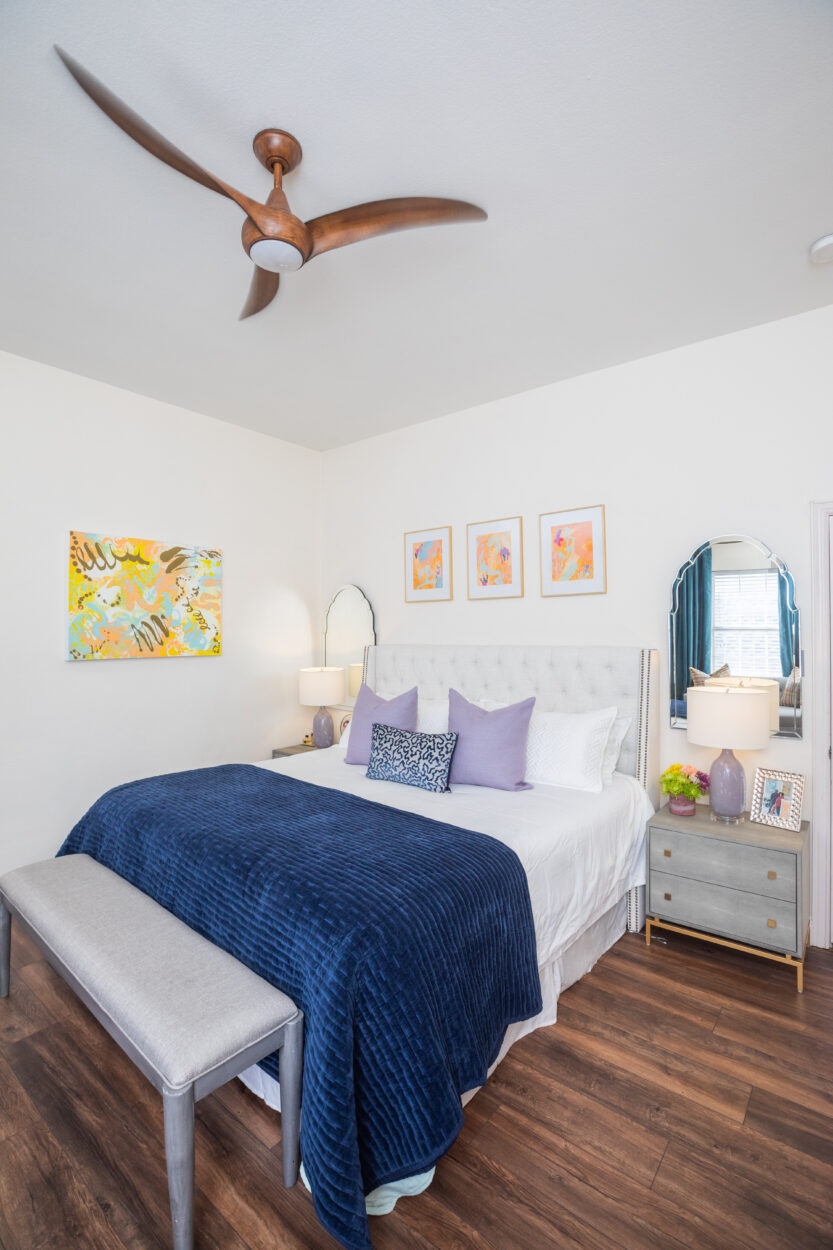 It's well known that you can find bedding at Bed Bath & Beyond, so of course I had to explore their range of options. I chose this navy blue velvet bedspread, combined with their 825-thread count sheets, Nestwell organic cotton duvet cover, and amazing down pillows. (The BEST pillow I have ever used!). While you may have expected to see bedding in this haul from Bed Bath & Beyond, you may be surprised to learn that the tufted linen headboard, TOV shagreen nightstands, violet blown glass table lamps, and the 11×14 matted gold frames over the bed are also from Bed Bath and Beyond.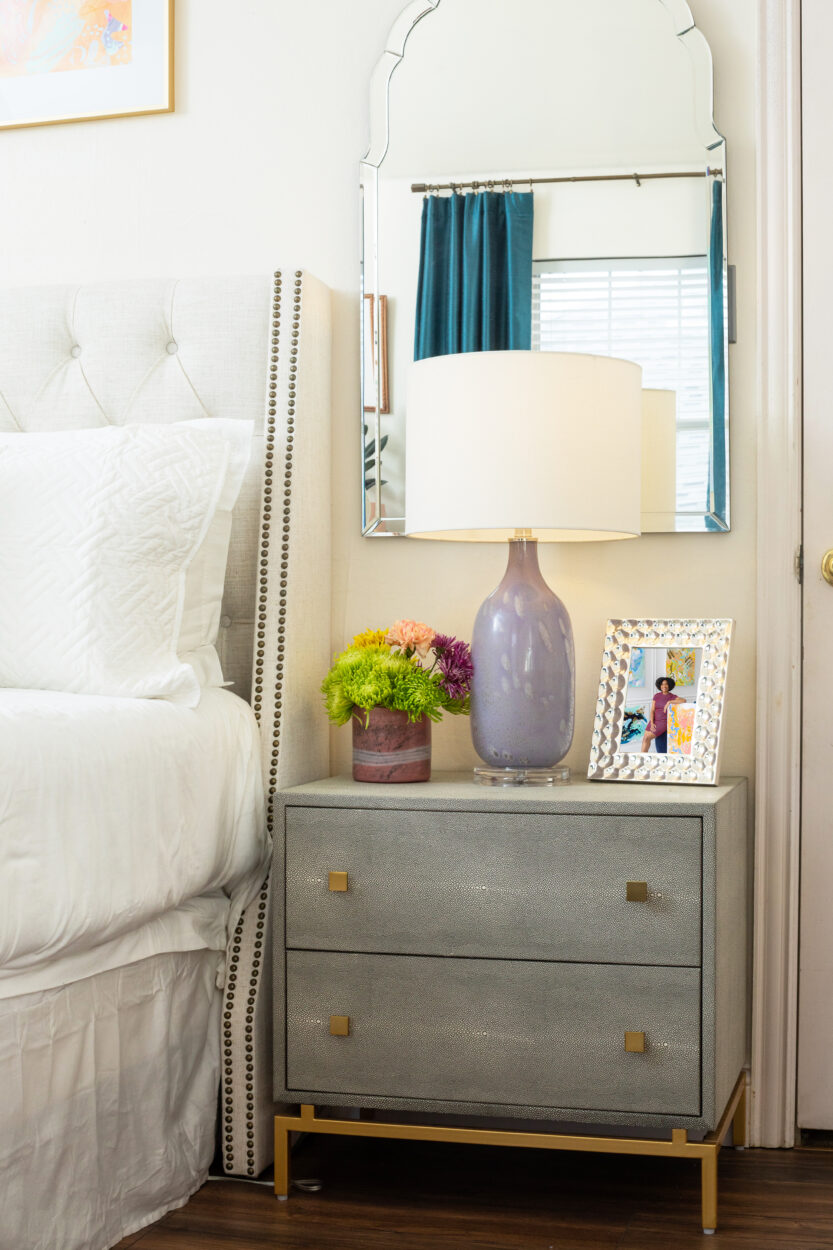 The quality of the TOV shagreen nightstand and blown glass table lamps are quite impressive. Definitely the type of selections that will elevate your space. One of my favorite items I found at Bed Bath & Beyond was the round gold mirror shown below, which arrived even larger than I expected for a rather grand look and feel. This mirror is incredibly heavy, and the construction of it is really substantial, so I would consider it an heirloom quality décor find.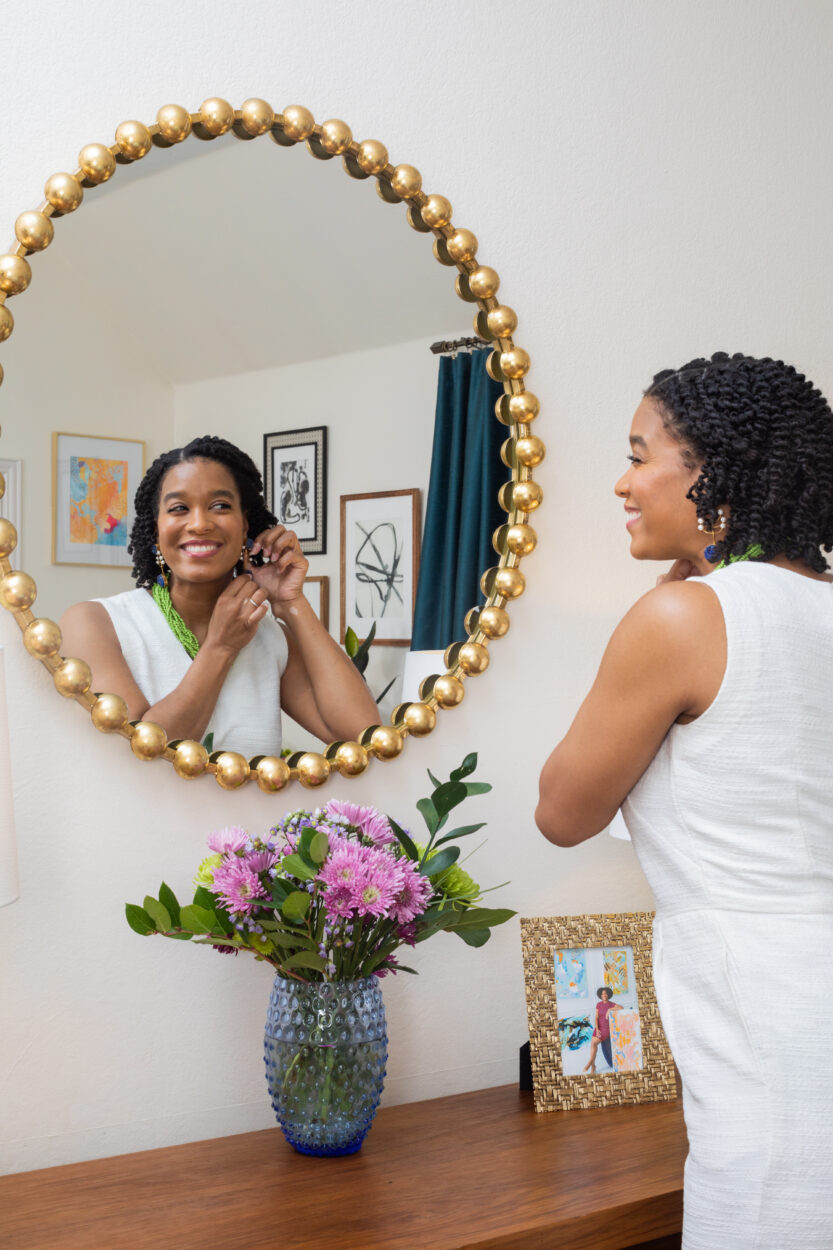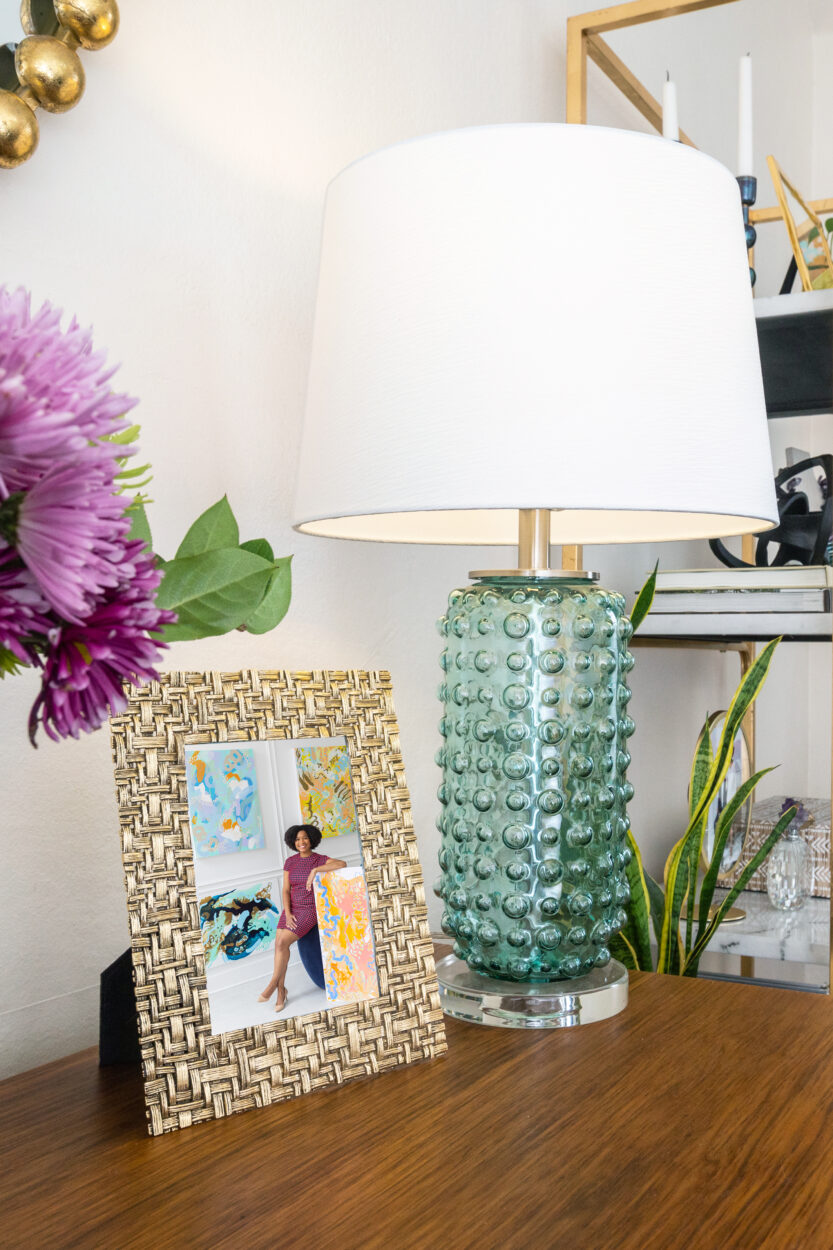 Along my dresser I styled a pair of green hobnail glass table lamps that I absolutely love. The hobnail textured effect on the glass is dynamic and adds the perfect level of visual interest. For the loveseat, I decided to create custom pillows with this contemporary take on plaid fabric from Romo, paired with lemon yellow trim from Samuel and Sons. I am really happy with the final look on these custom pillows and I'm glad I invested in them as I made updates to the space. Going custom with a few elements in your home will help elevate the space and allow you to be more creative since you're literally creating your own décor.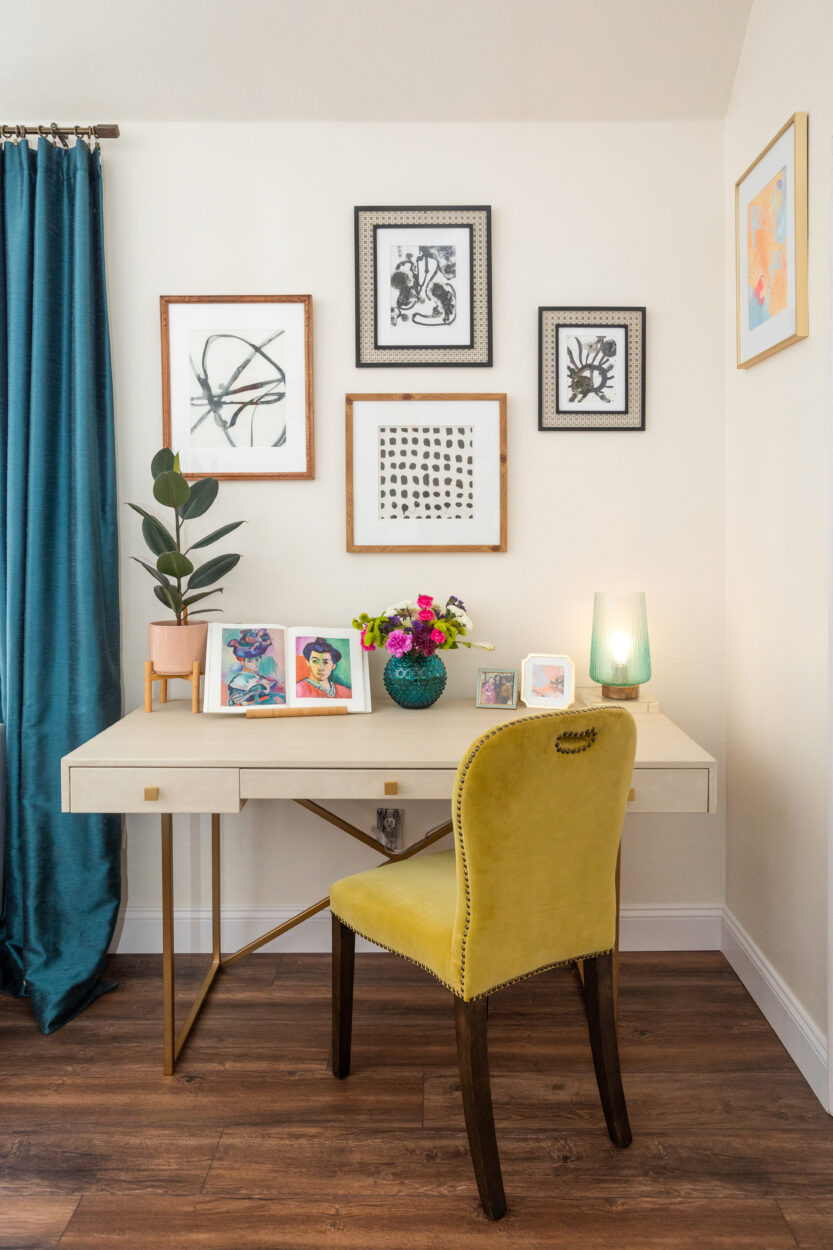 For my workspace, I selected a cream colored shagreen and gold desk from CB2 that I styled with a artwork gallery wall above. While I love color, I opted for all black and white artwork, which worked out perfectly with the other bright colors already in the space. The teal hobnail vase shown on the desk is hand-blown glass from Europe made by cult-favorite brand Klimchi. I actually have two different Klimchi vases in this space in different colors and I am looking forward to collecting more. They were an excellent addition along side my Bed Bath & Beyond selections throughout the space.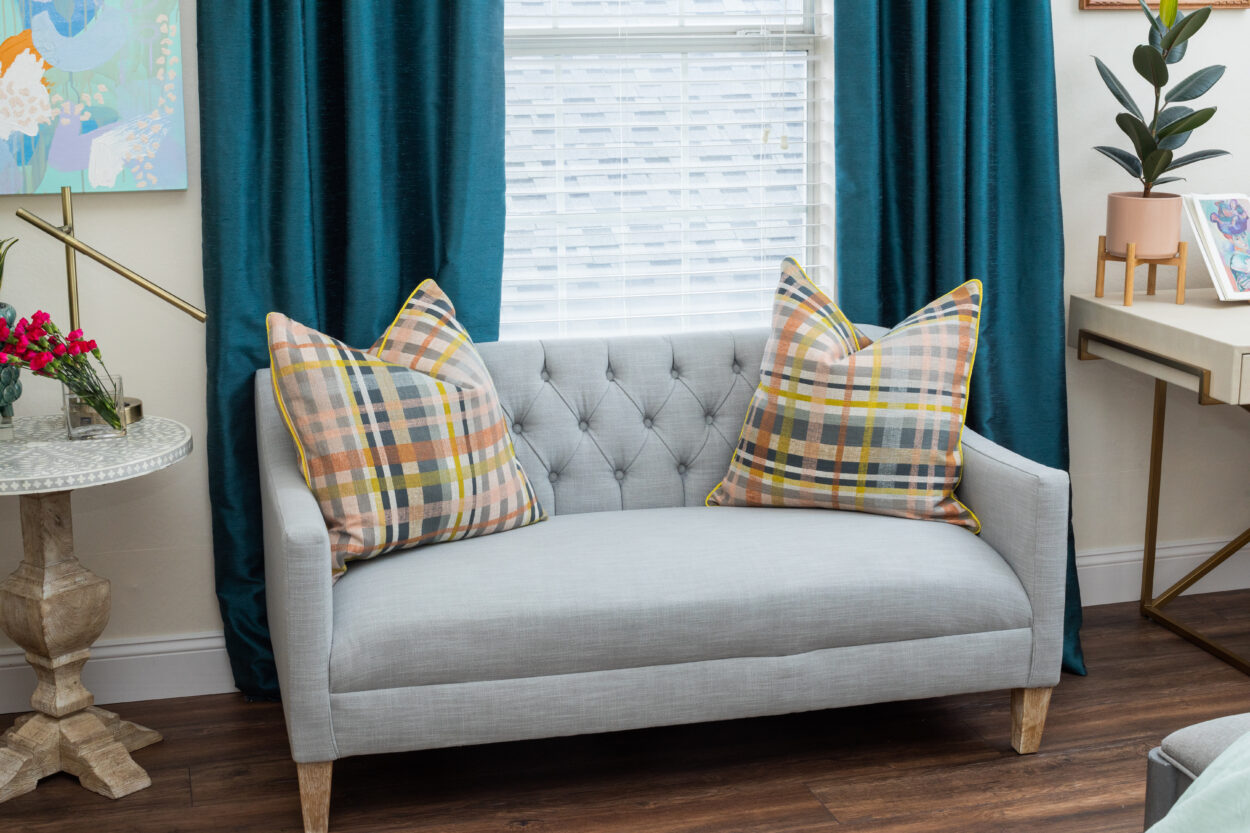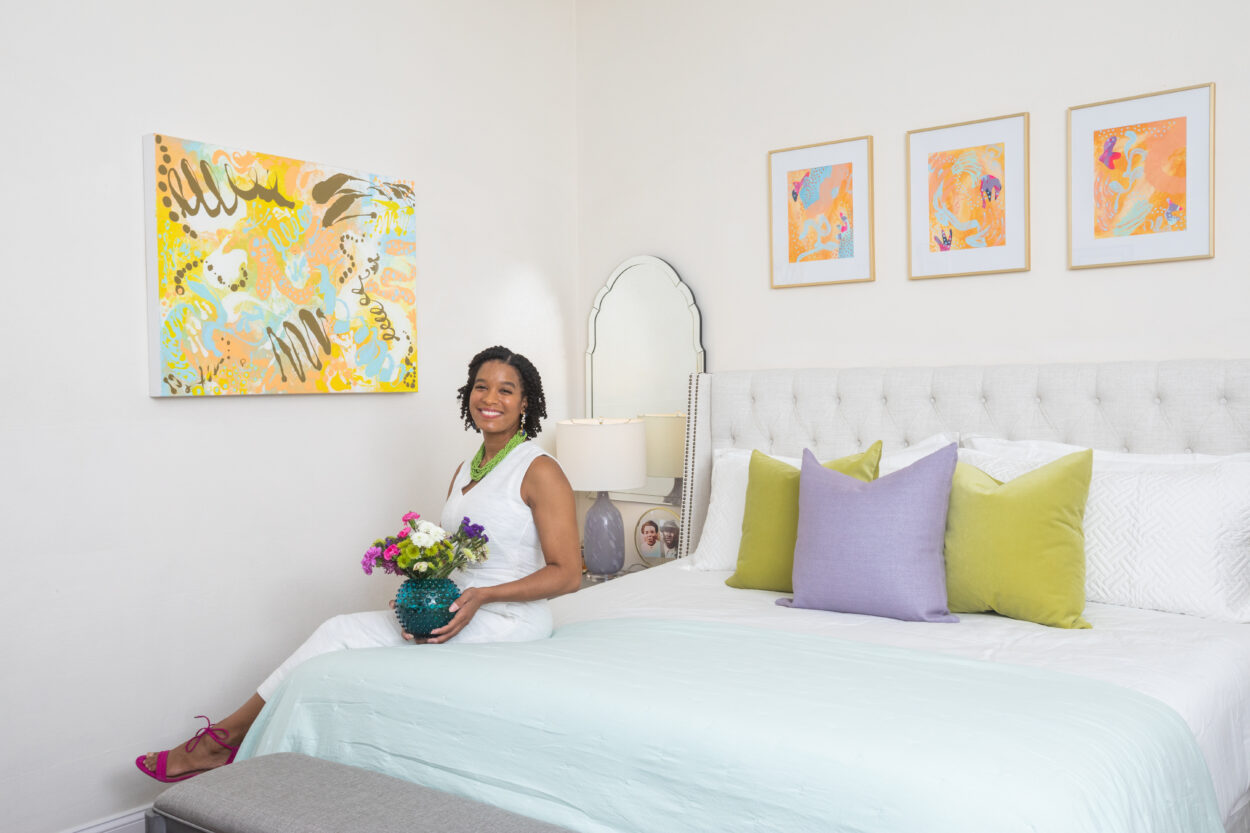 One thing I love about my bedroom refresh is that I'm surrounded by the artwork I created. It was fun to incorporate my own colorful creations to brighten the space. Pairing my works on paper with Bed Bath & Beyond's matted picture frames certainly made my artwork pop even more and rival the finished look of custom framed artwork. The matted gold frames here are Bed Bath and Beyond's Studio 3B 11×14 frames, which are so affordable.
I advise taking time to brainstorm how you can make your space truly feel like YOU. Curating items that stand out paired with items you've created yourself or perhaps collected over time is a great approach. Exploring your own creativity, combined with shopping Bed Bath & Beyond's great selection, will help you design a space you love!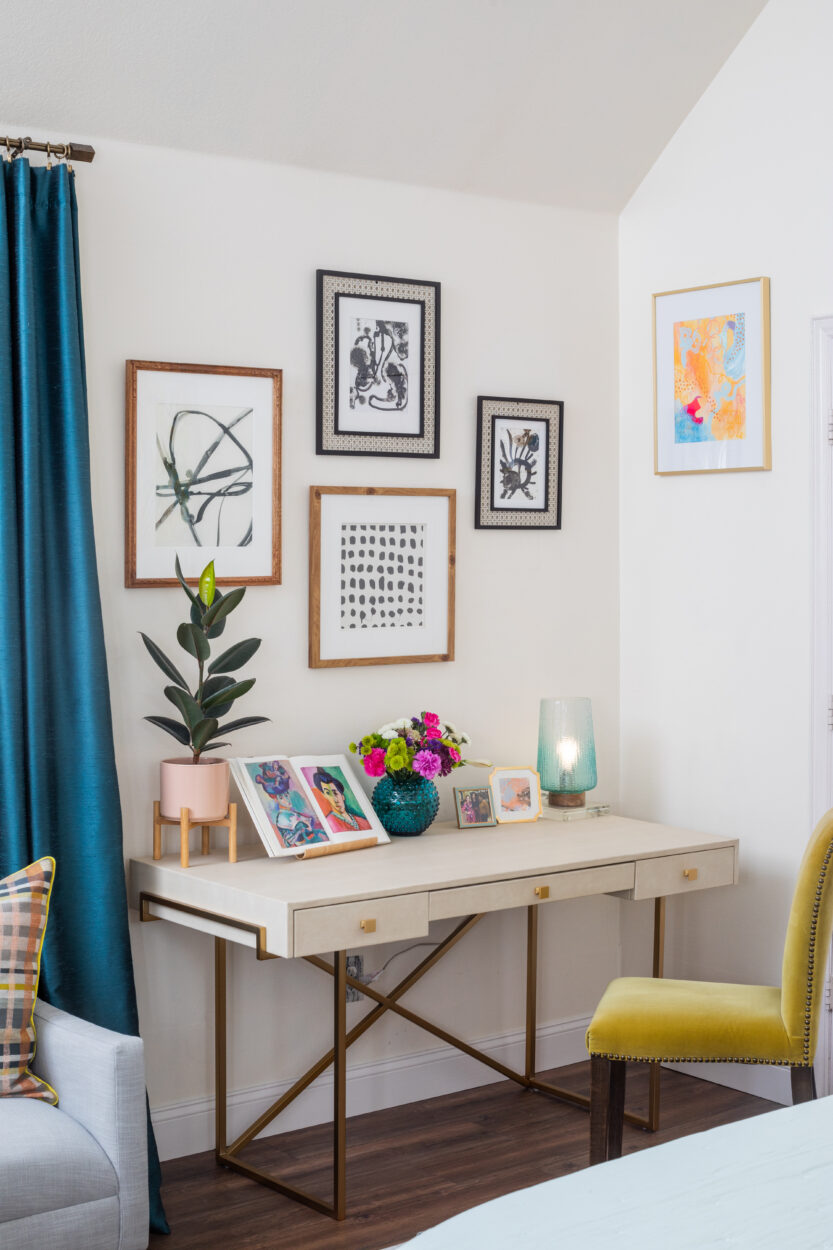 This blog post is sponsored by Bed Bath & Beyond.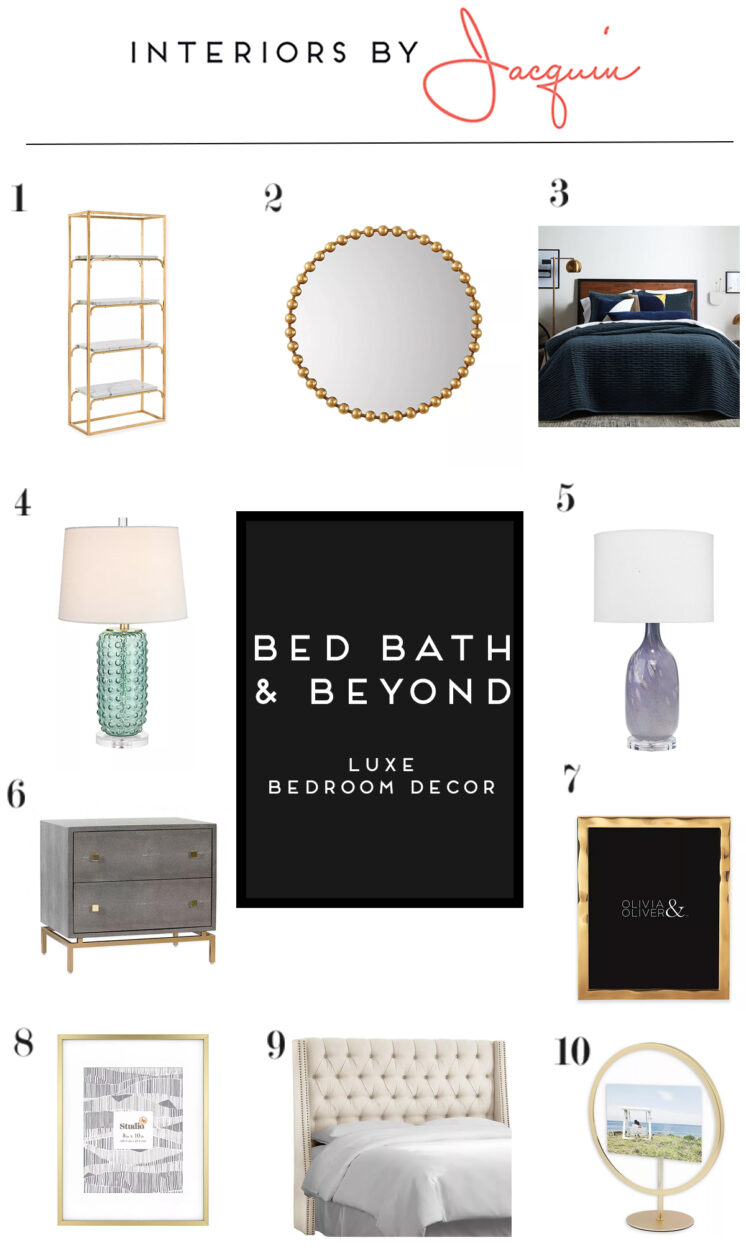 Here's the full line-up of items I curated from Bed Bath & Beyond for this bedroom refresh!
It's time to refresh your bedroom decor! Ready, Set, Go!
Follow Interiors by Jacquin on social media: Pinterest and Instagram