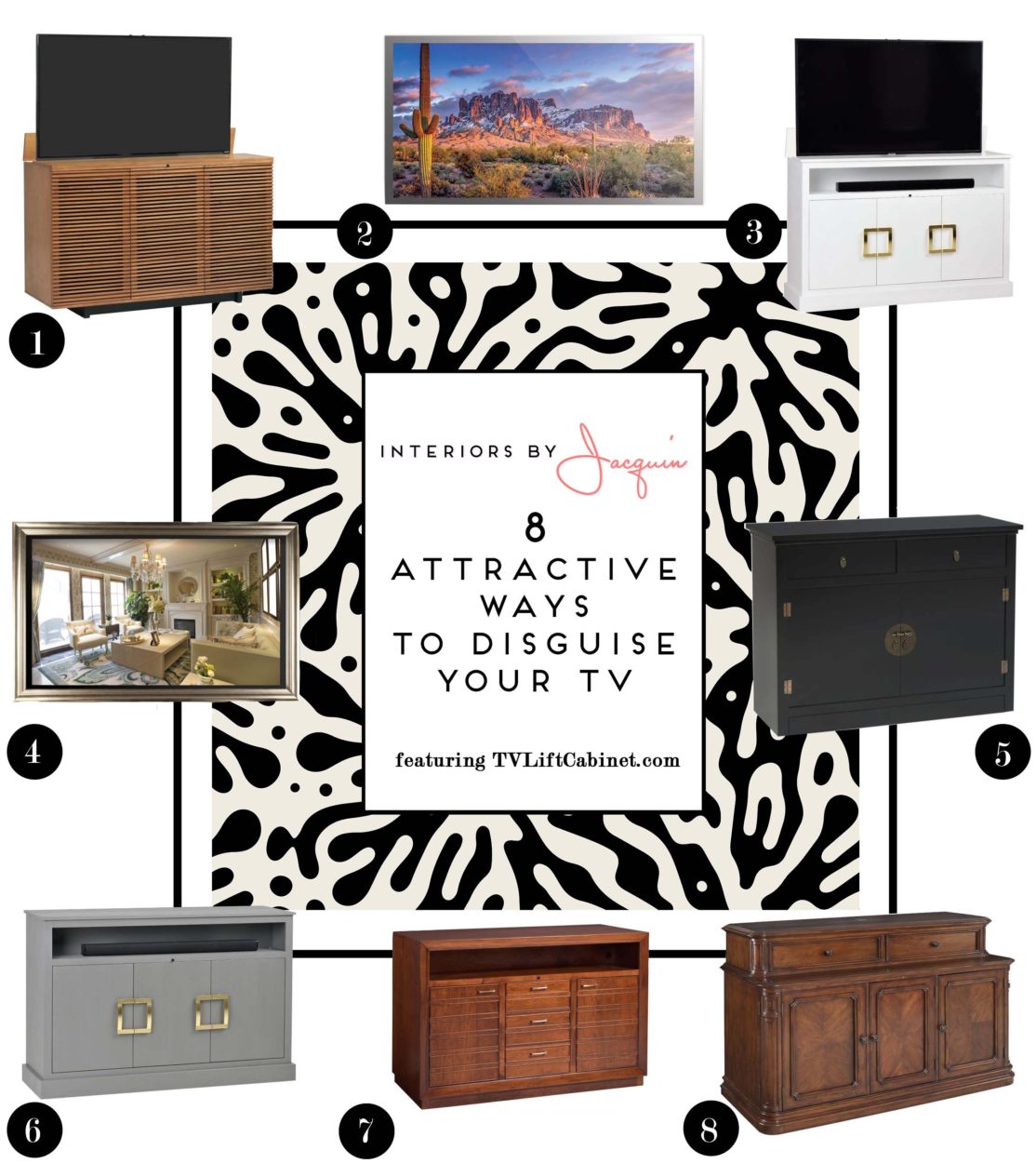 This is a sponsored post featuring TVLiftCabinet.com
Looking for a way to enjoy your TV without blocking your window's view or ruining the aesthetic of your room? TVLiftCabinet.com has come up with patented technology to hide away your TV and then re-appear when needed at the press of a remote button. Their motorized television lifts are a terrific convenience that preserve the style of a room by hiding large screen TVs and monitors, bringing them out at the push of a remote control button. They also offer stunning TV mirrors that appear as regular decorative mirrors when the TV is not in use. Perfect for the person who doesn't want their TV to take away from their room's beautiful decor!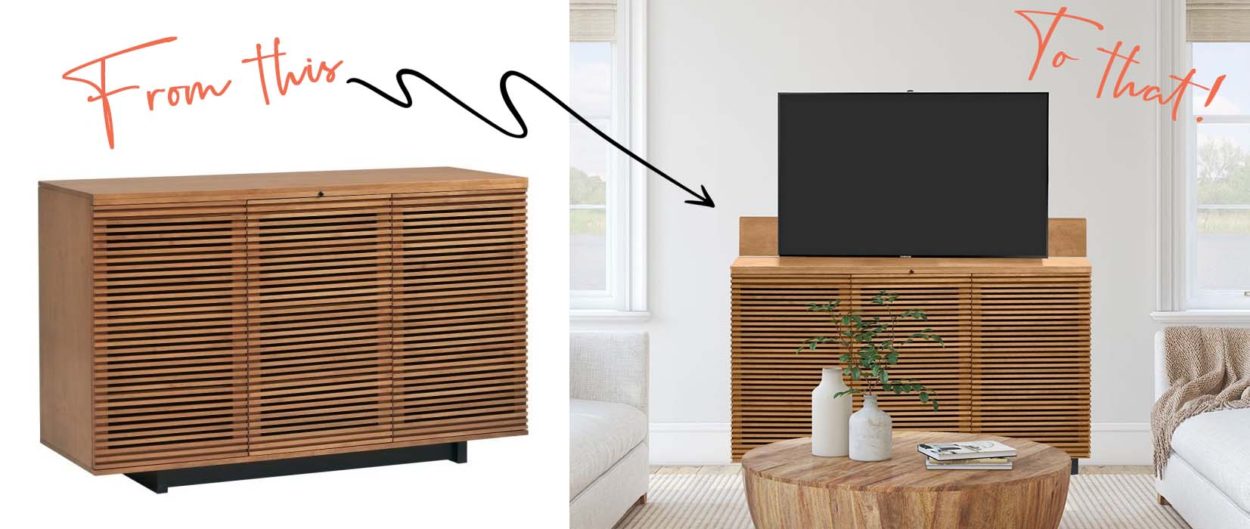 For those of you who prefer modern and contemporary design, this Linear Honeycomb TV Lift Cabinet is a great choice. I love the aesthetic of this option and it will help you to keep your space free of obstruction when your TV is not in use. Their motorized TV lifts will allow your TV to re-appear at the press of a button.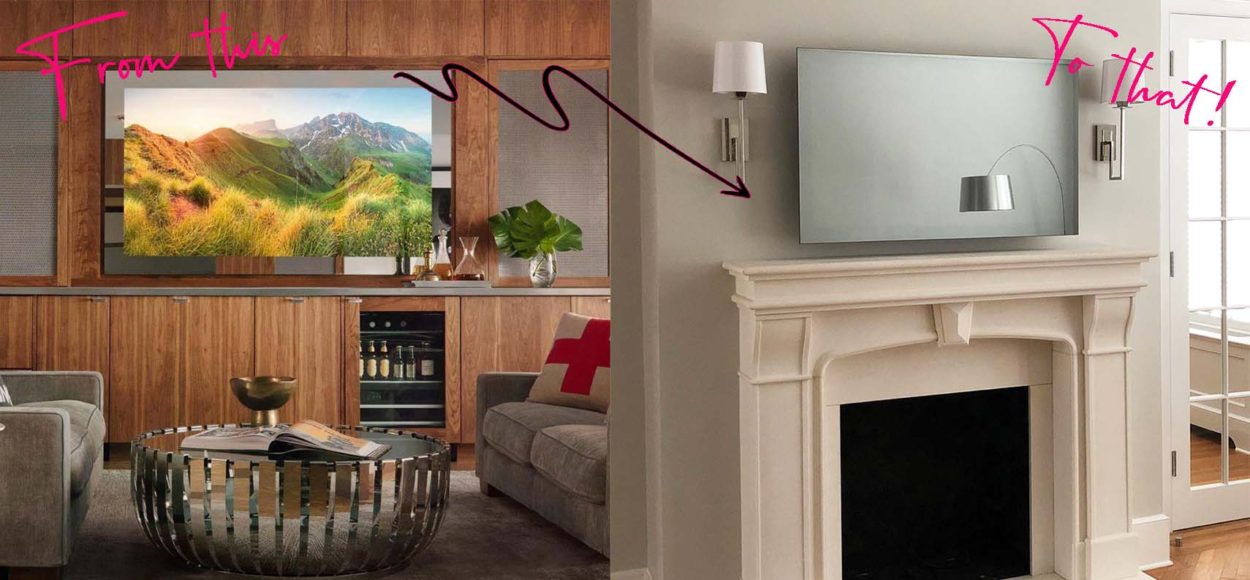 This attractive TV disguise is my favorite! Have you ever noticed that in interior design magazines, you never see any televisions in the editorial? Purchasing a mirror TV is the best way to achieve an editorial-ready interior without allowing your TV to cramp your style. Your mirror TV will blend in perfectly and will reflect light into the room when not in use, just like your traditional mirror would. This mirror TV model comes in various sizes and is frameless. However, they also offer a framed version that looks just like a work of art. Read on to see more!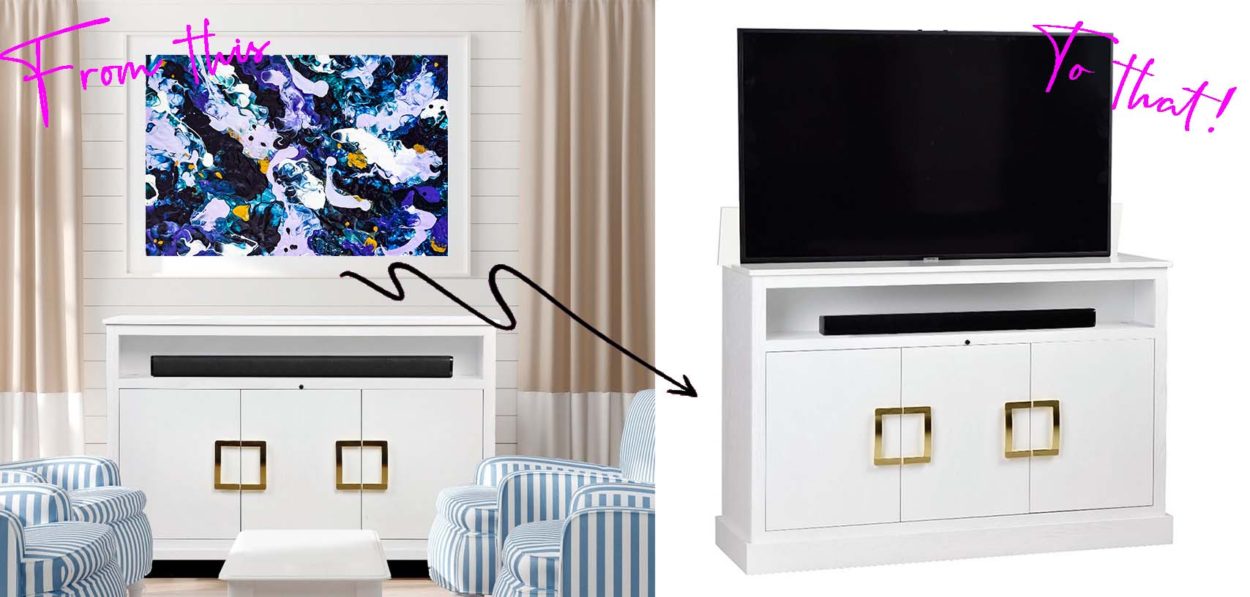 Avoid blocking the view of your wall art or window view with this contemporary, white TV Lift Cabinet. Your TV is perfectly hidden away until you're ready to watch it!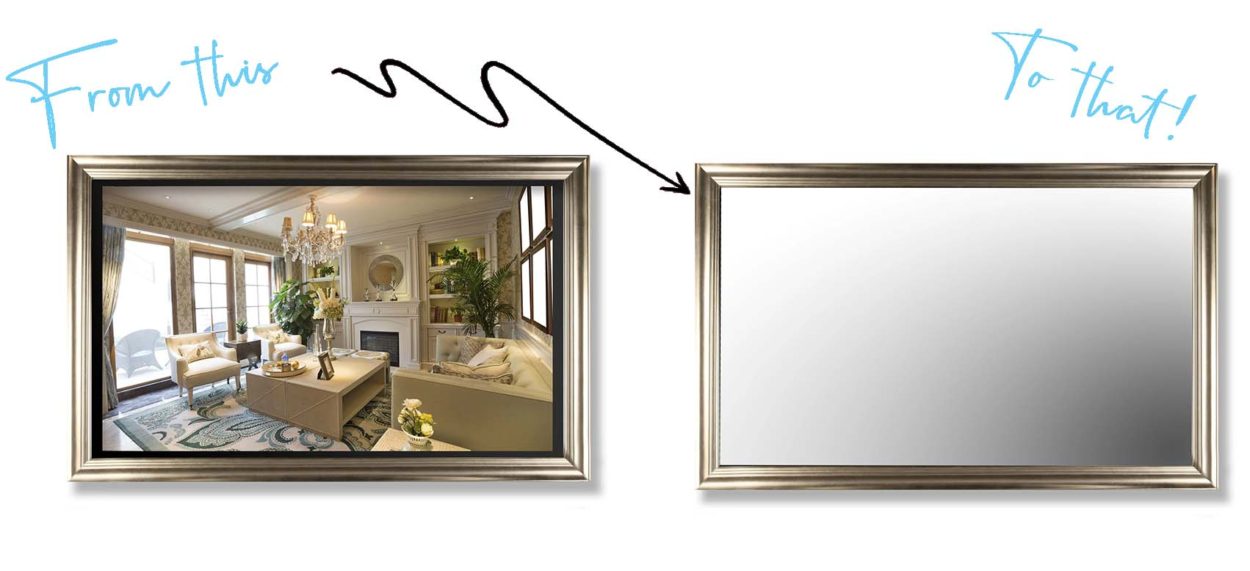 Here's the second option available for the mirror TVs. This version is great for those of you with more traditional design taste. This mirrored TV is beautifully framed and looks just like a custom framing job. Allow this mirror TV to blend into your interior with ease, plus add a fine art touch to your space.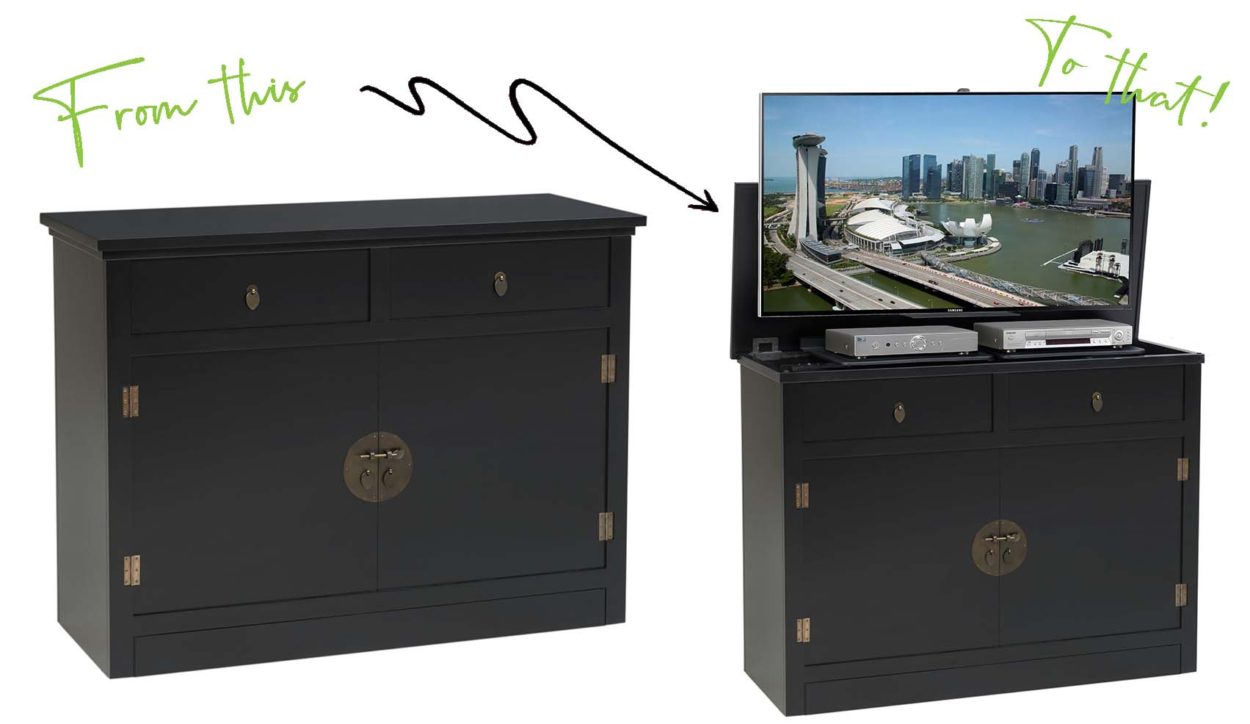 Are you looking for a black TV stand that will disguise your TV? This just may be the perfect option for you. This minimalist TV Lift Cabinet is complete with attractive brass hardware that will give your space a luxury look and feel.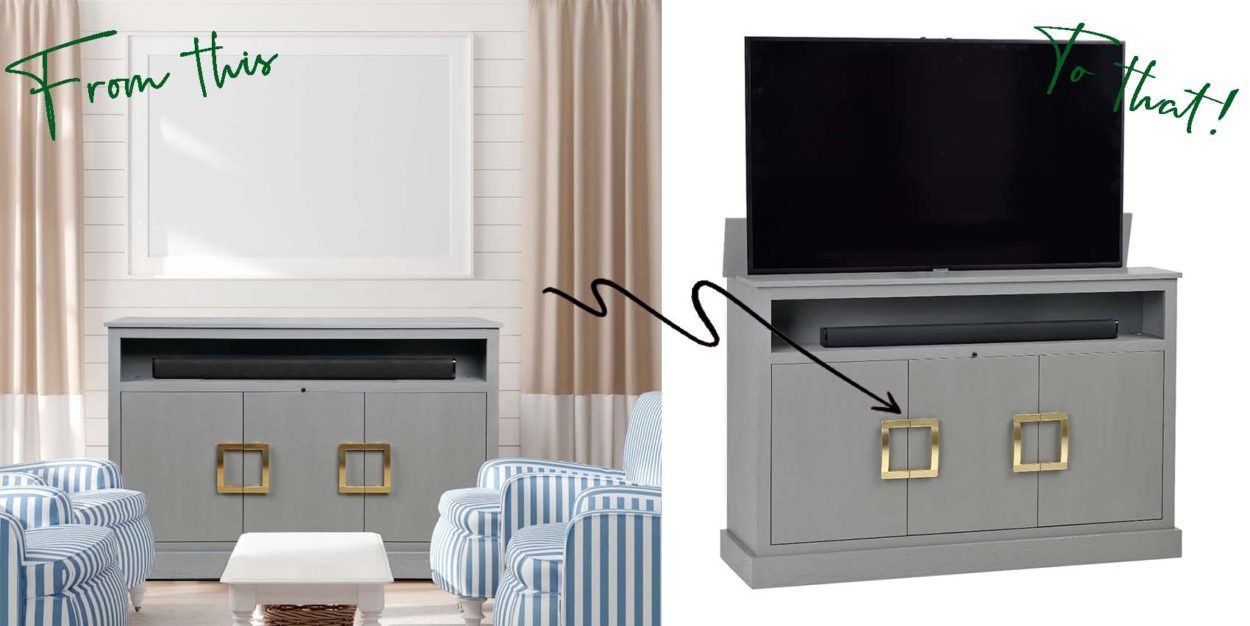 Gray is everyone's favorite neutral shade nowadays, and with good reason. This classic option will go with both traditional or contemporary decor and is finished with luxurious gold hardware. TV Lift Cabinets are a great option for not only under a window, for example, but they are also a wonderful solution for people who prefer their TV closer to them like right at the foot of their bed in their bedroom. This compact TV cabinet fits perfectly at the foot of your bed, and will hide your television with ease.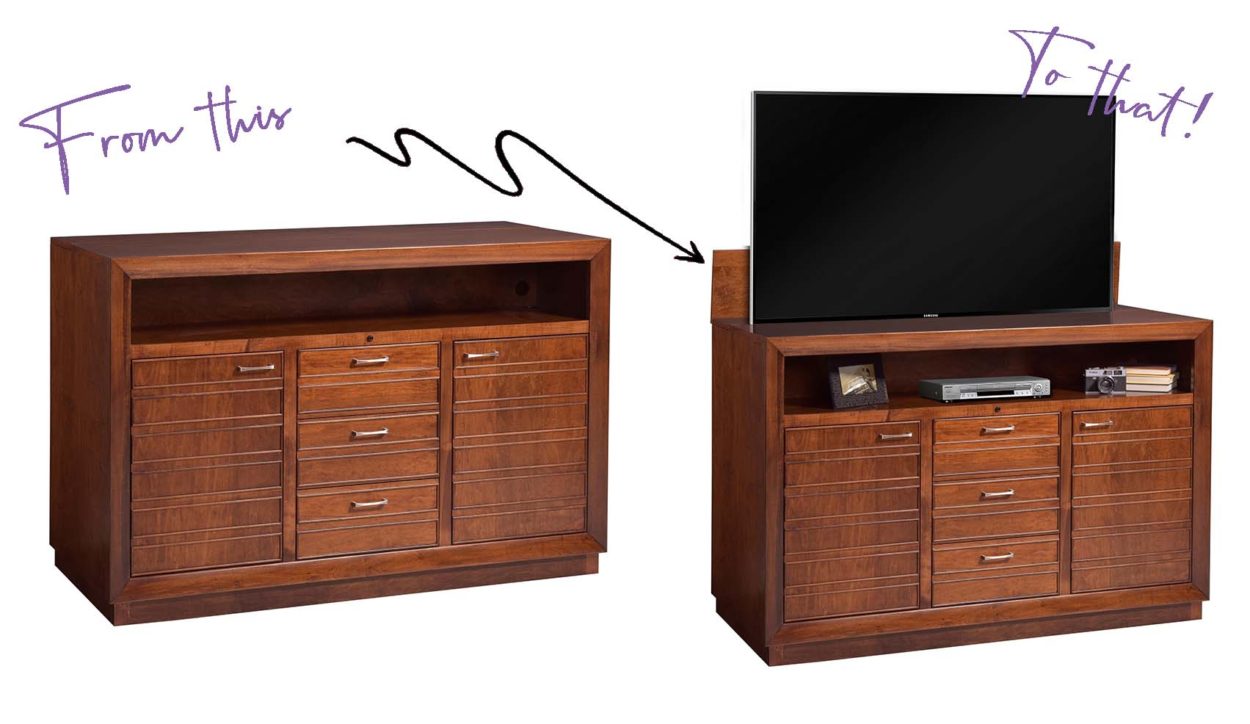 If you enjoy the classic look of wood, TVLiftCabinet.com has a wide range of selections in various wood tones and styles to meet your nees. This is just a sampling of what is available to you. You can choose a more modern wood TV cabinet, or select a more traditional option. The options are endless!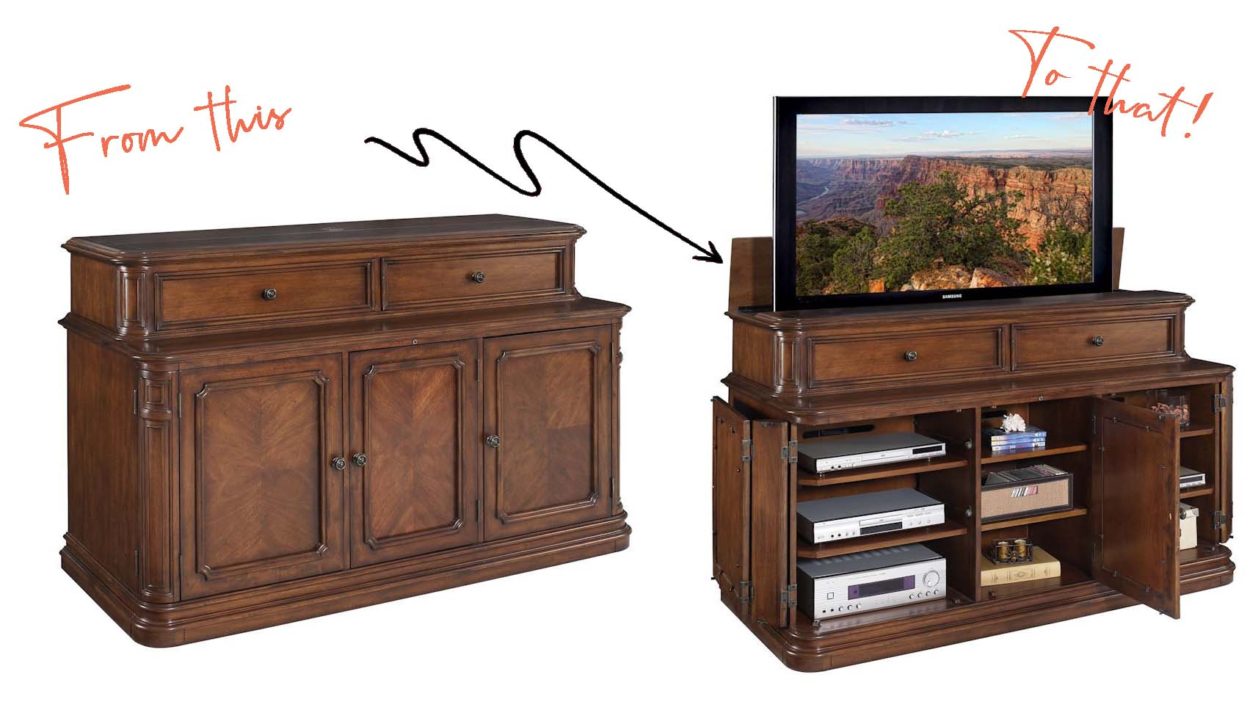 Last but not least, here is one of their more traditional wood TV Lift Cabinet options. There truly is something for everyone. Head over to their website to see their full range of options, and if you still can't find exactly what you're looking for, TVLiftCabinet.com also offers custom built TV Lift Cabinets to your own specifications and style. You will truly be impressed by their motorized TV Lift Cabinets and mirror TV options. Hiding your TV when not in use will take your room's decor to the next level!
Learn more about this brand at their website at www.TVLiftCabinet.com
Follow Interiors by Jacquin on Pinterest, Twitter and Instagram