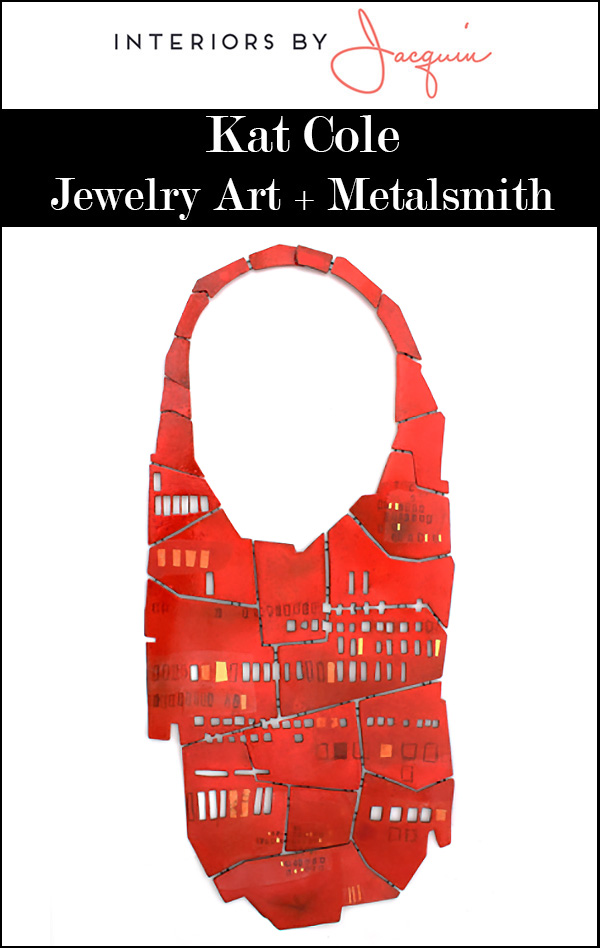 One of the more exciting parts of my job at Interiors by Jacquin is having the opportunity to meet so many talented artists and designers. My recent studio visit at the home of artist Kat Cole has not only re-invigorated me, but also inspired me to bring you more behind the scenes artist interviews.
You will love the work of Kat Cole. She is a fine art jewelry designer and metalsmith creating work that uniquely mirrors the built environment. You will notice inspiration from industrial surroundings blended with Cole's colorful aesthetic.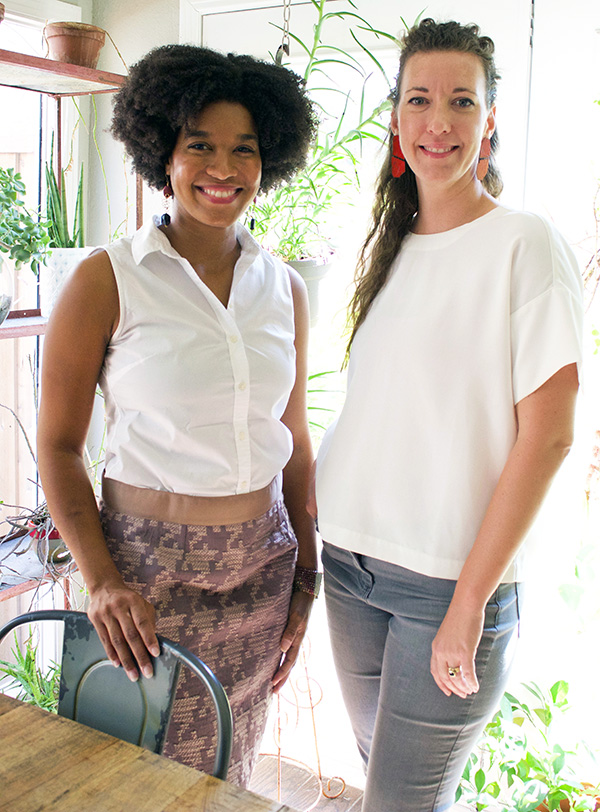 An enjoyable time chatting with contemporary jewelry artist Kat Cole in her plant filled home.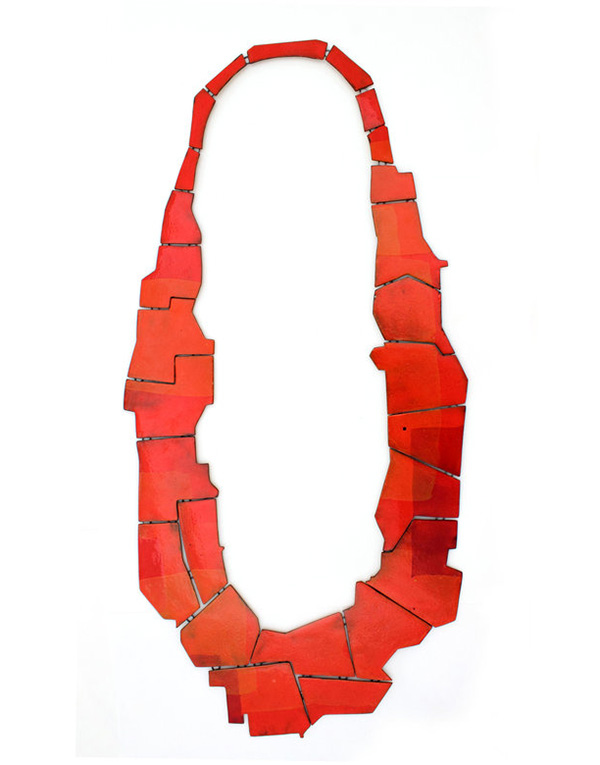 'Boundary Lines Loop' necklace, steel, 2017. Kat Cole.
Kat Cole is currently a full-time studio artist based in Dallas, TX and is the co-founder of Jewelry Edition. She has been a presenter at Yuma Symposium and Craft Boston, she teaches workshops nationally and has exhibited internationally. You can watch our inspirational, on-camera interview at the end of this post.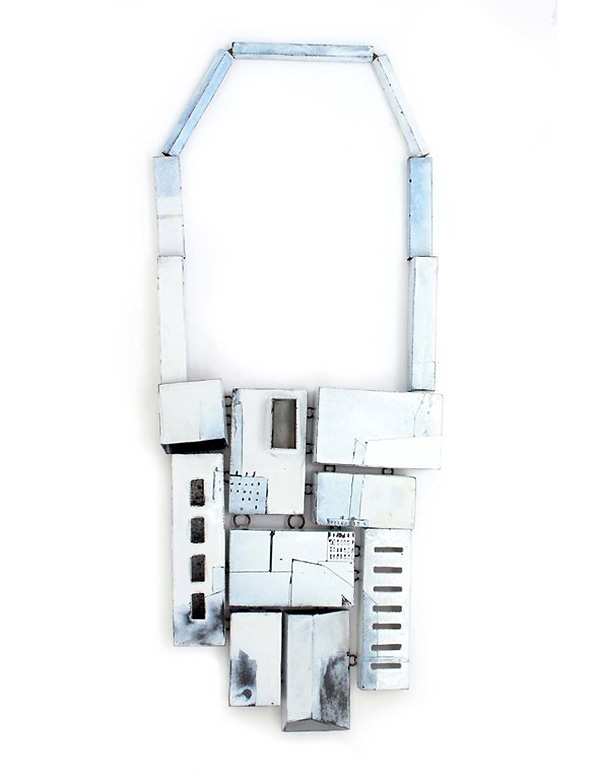 'Built #2' necklace, steel. 2016. Kat Cole.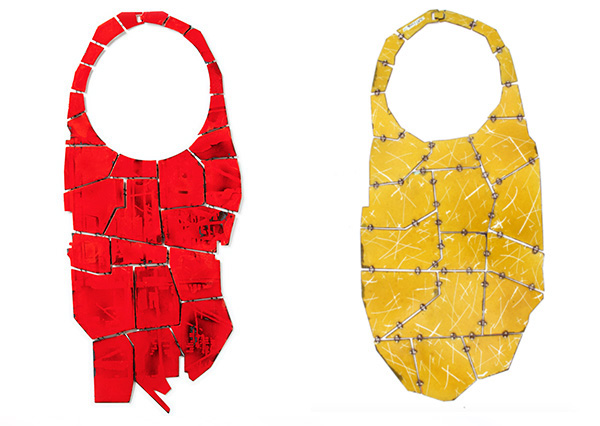 (Left) 'Boundary Lines Shadow' necklace, steel, enamel. 2017. Kat Cole.
(Right) 'Urban Color #2' necklace, steel, enamel. Kat Cole.
After admiring Kat Cole's jewelry design, we turned our attention to her amazing indoor garden!
Her one-of-a-kind work is sold online and in stores at Jewelry Edition as well as other retailers. You can find a full list of Kat Cole's jewelry retailers here. I look forward to adding Kat Cole's creations to my jewelry collection in the future!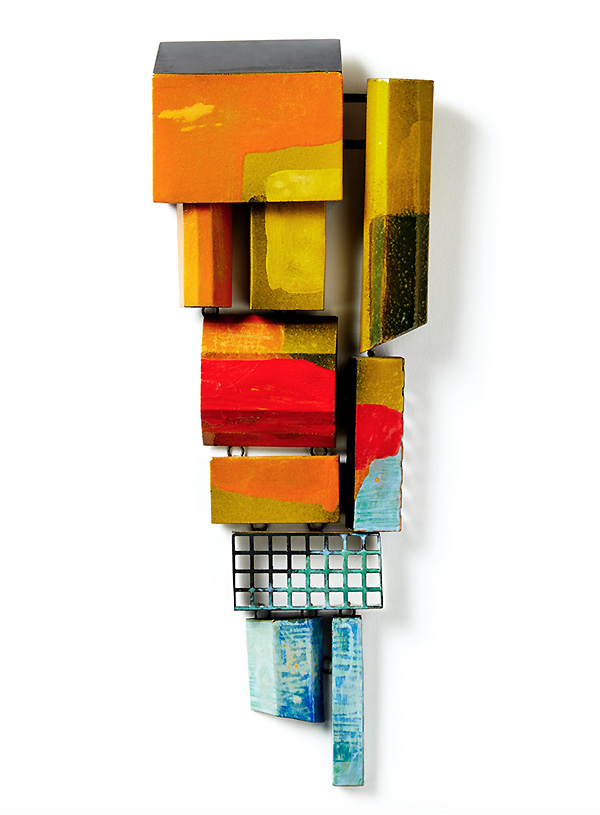 Kat Cole's stunning broaches were my favorite! I loved the originality, colors, and movement of the metal. (Above: 'Urban Color #1' broach, steel, enamel, 2017. Kat Cole.)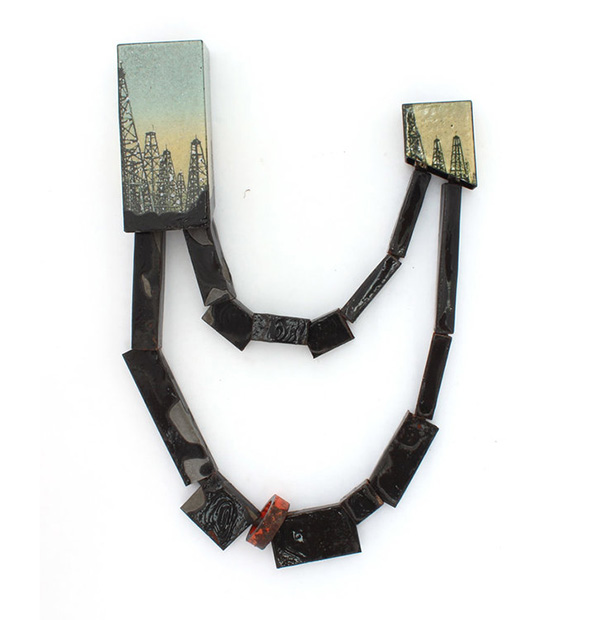 'Old Well' broach, steel, enamel, found object, rubber 2015, Kat Cole.
I had a lovely time chatting with contemporary metal artist Kat Cole in her plant filled home recently. It is always a bonus when you make a fabulous artist friend at the end of an interview! Follow Kat Cole on Instagram for further contemporary art inspiration.