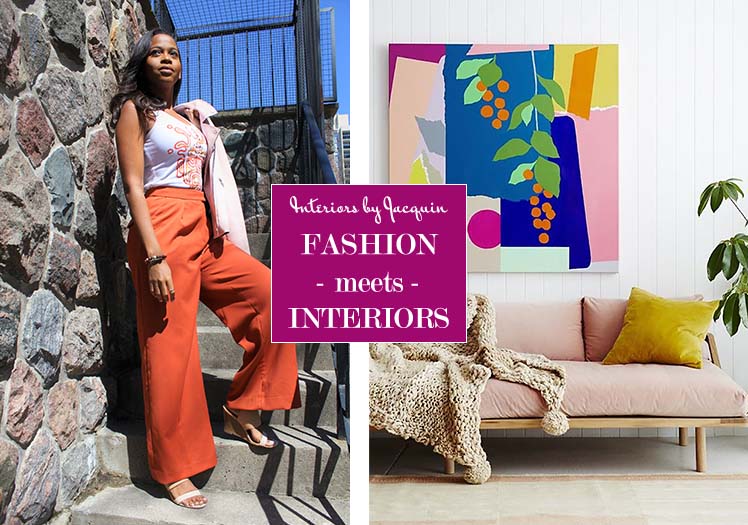 I hope everyone is enjoying the tail end of their summer! I am back with a brand new Fashion meets Interiors post featuring creator, host, and fashion blogger Nneka Elliott, whose foundation is based in her Caribbean roots. Nneka infuses Caribbean style and culture throughout her blog and personal style, bringing Caribbean heritage to her life in America. Meet Nneka and explore how she styles an original outfit based on this vibrant interior design and wall art by Leah Bartholomew.
I'm a long time tv news girl, with an island soul, chasing my dreams as a host, actor and content creator. I blog about my life as a woman on screen and the things that help me shine on camera. All the clothes, beauty/hair products and lifestyle tips that work for me. I recently quit the news biz after more than a decade of reporting and anchoring in Toronto, Canada. As such my style has also transitioned to be less conservative. I'd describe my personal style now as classic with a side of island chic.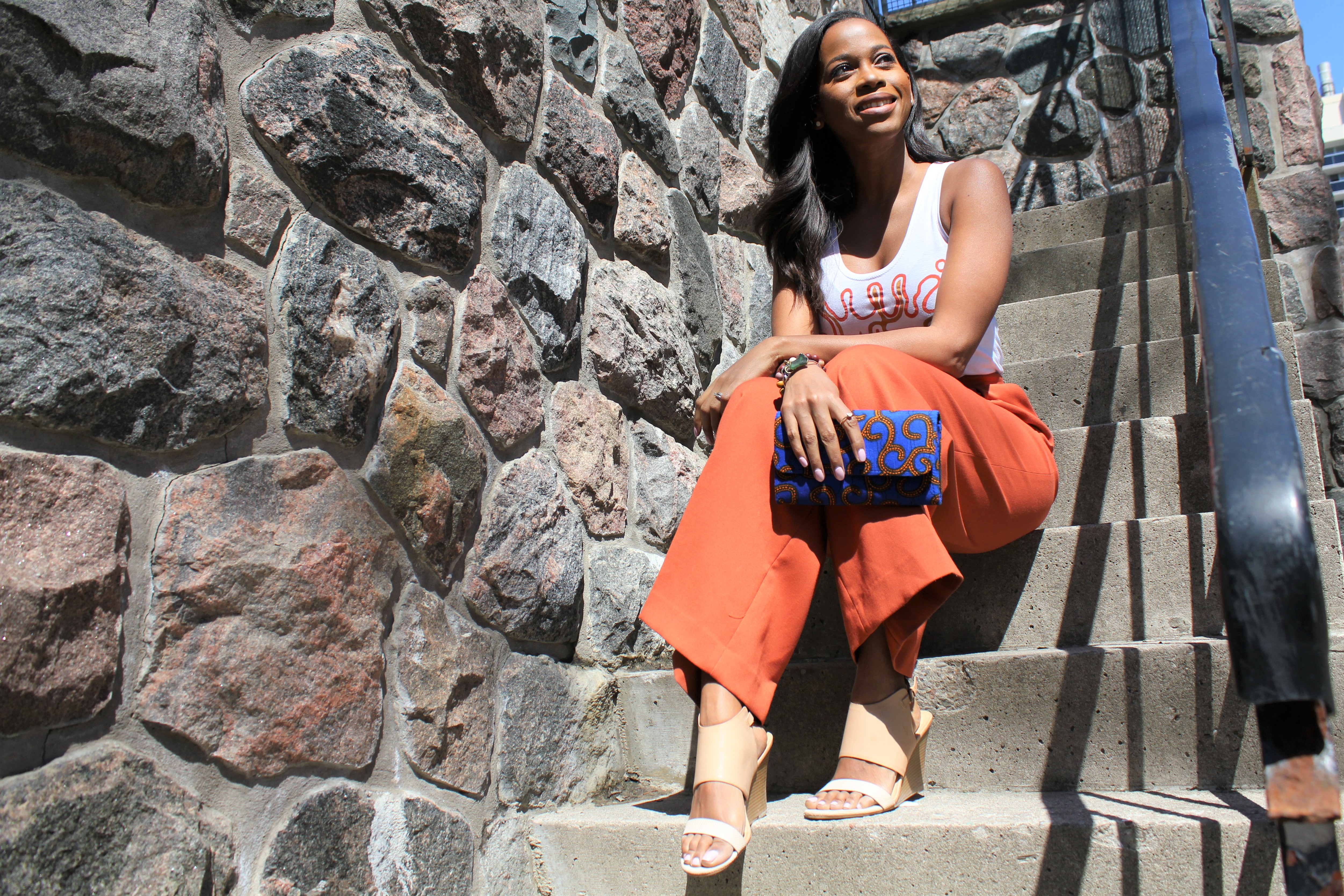 That's why I felt most drawn to this particular design photo. The botanical feel of Leah Bartholomew's art work gave me a slight island vibe. The leaves, the citrusy vibrant colours. I could definitely see myself hosting an episode of my online lifestyle talk show in this room! I often talk about the intersectionality that is my identity as a Canadian woman of Caribbean descent (St.Vincent & the Grenadines & Trinidad to be specific.) I'm getting a bit of that dual identity when I look at this room. The artwork juxtaposed with the more neutral, classic tones in the furniture and decor.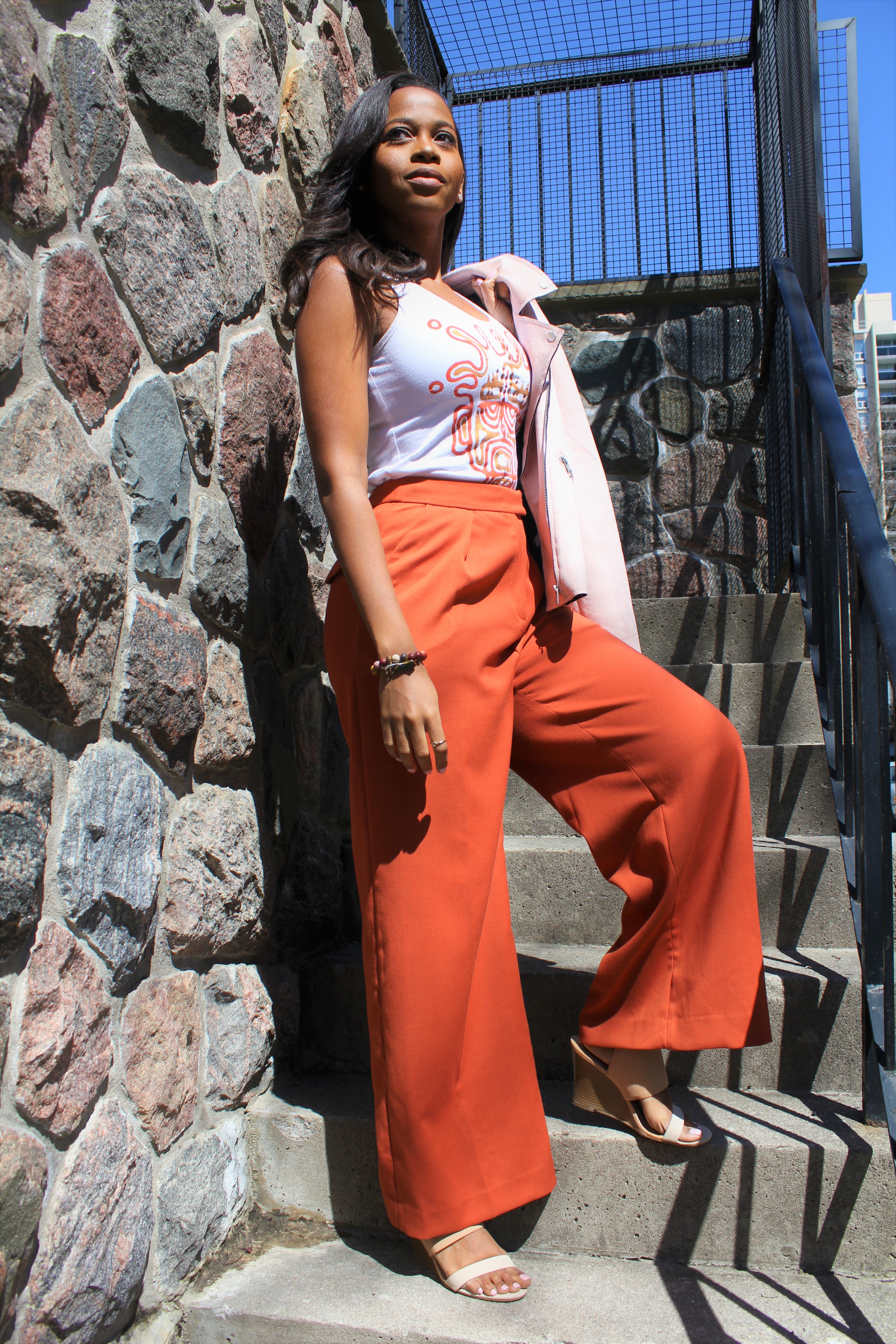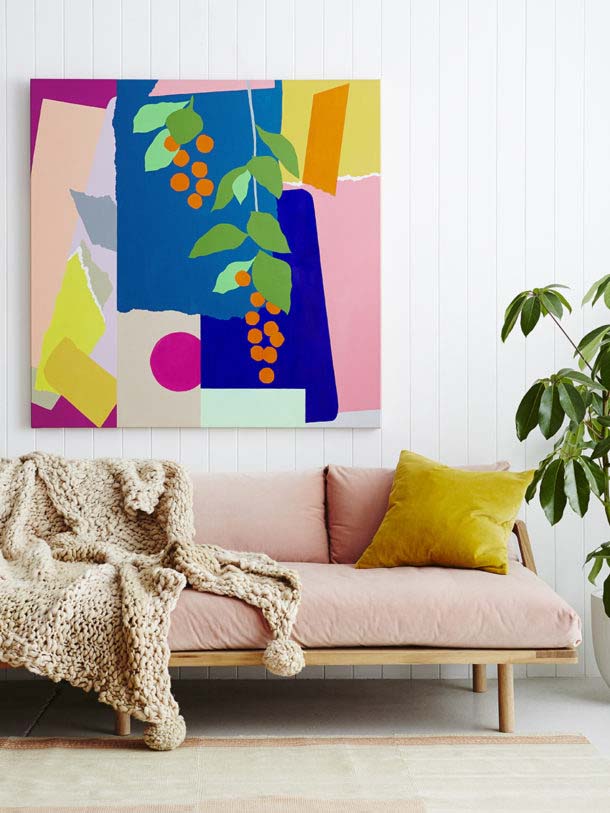 I pulled out the least prominent colour in the room, which is the orange (my favourite colour) and made it the dominant colour in my outfit.  I paired some comfy wide leg trousers with a hieroglyphic patterned tank from Caribbean designer Fashion is Payne. Then I threw on a faux suede moto jacket to tie in the pinks/blush in the painting and the texture of the couch. I recently got the african print clutch from a black owned pop up market. I really wanted to add a tiny bit of the electric blue from the painting, plus I love orange and navy. So it was a no brainer really. I love outfits that are multidimensional and represent who I am and this room provided the perfect opportunity to do so!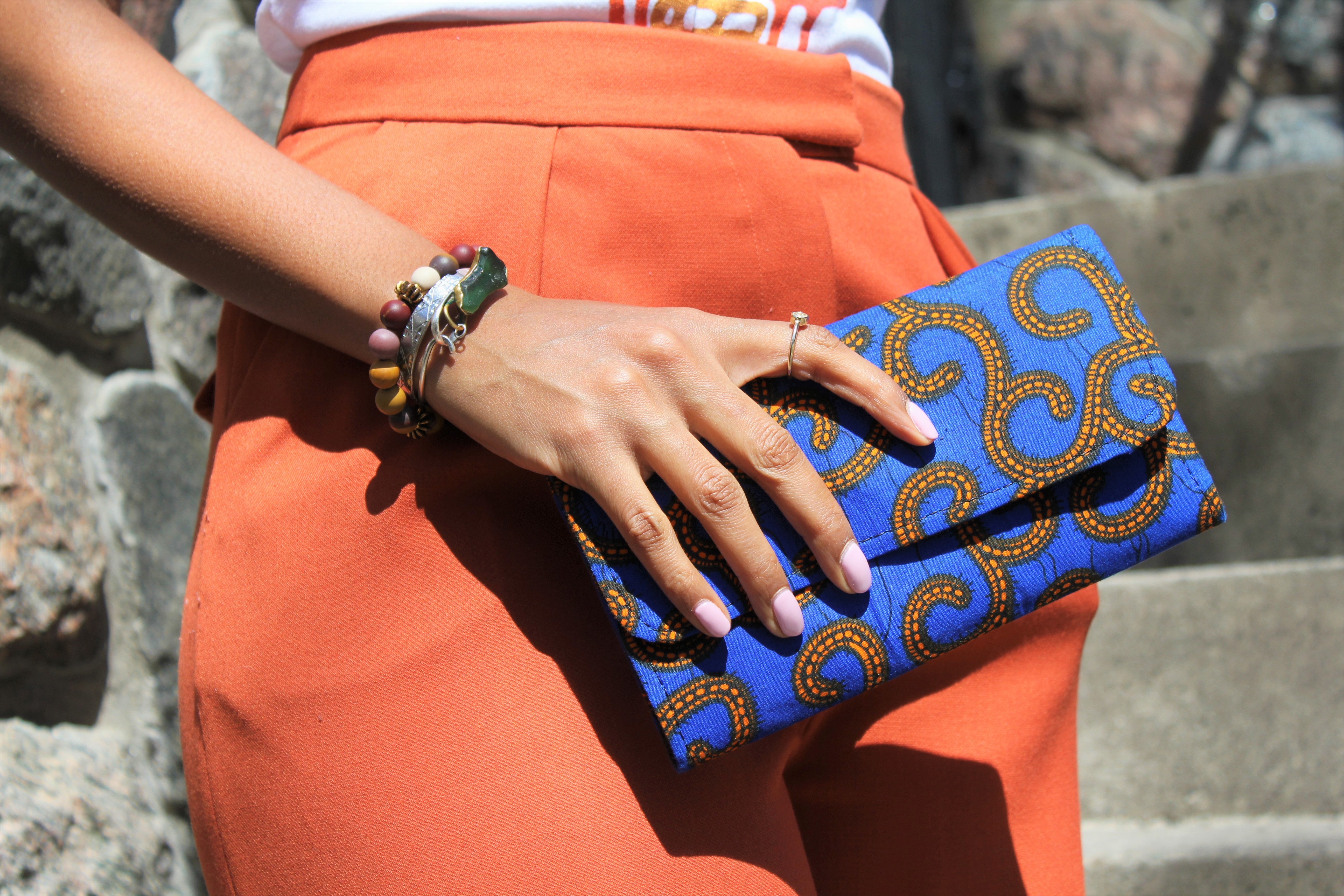 SHOP THE LOOK!
Thank you, Nneka for sharing your eclectic and colorful style with us. This outfit is perfect for the summertime, can be transformed from a business meeting to a night out on the town!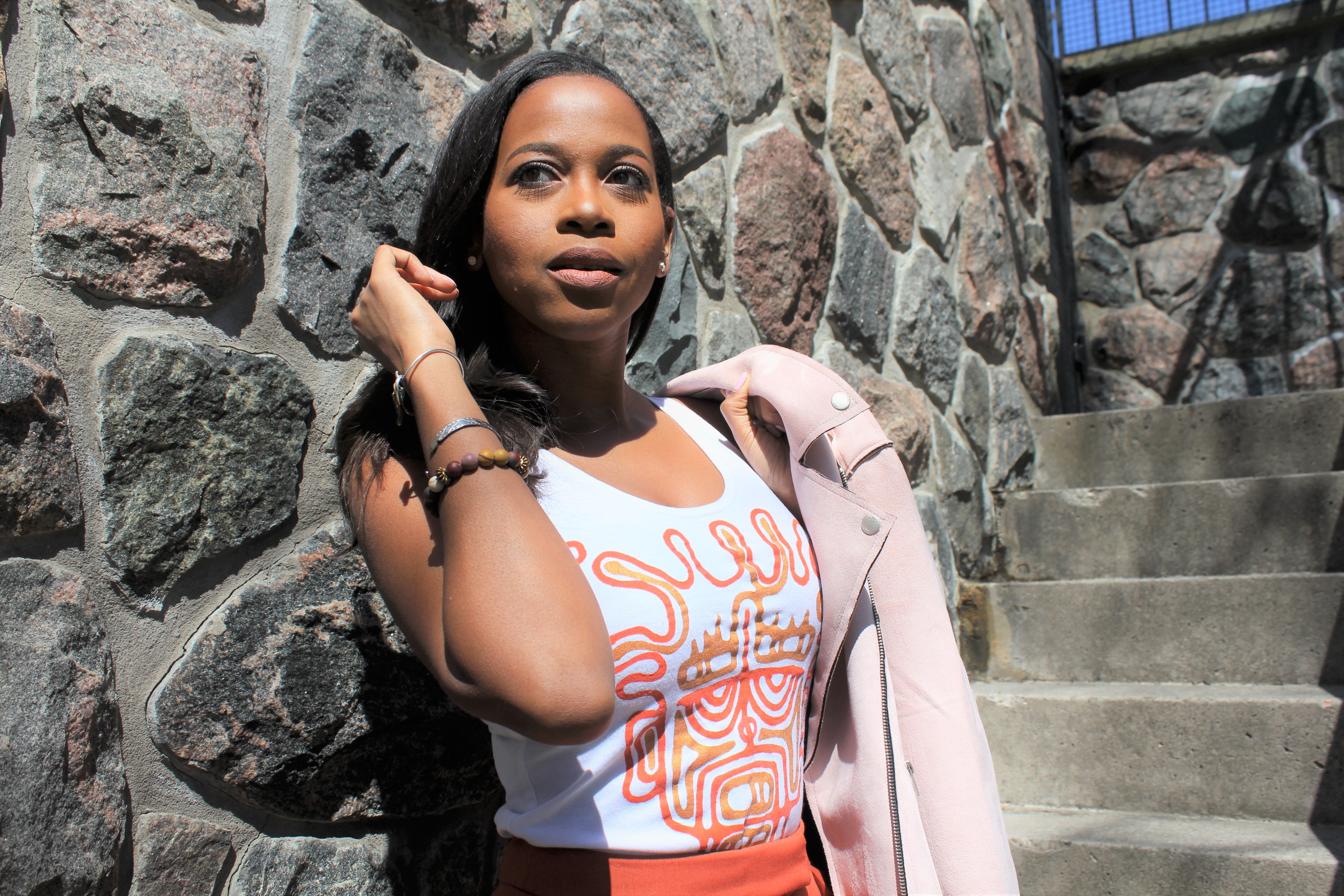 Be sure to follow Nneka Elliot on Instagram and Twitter @nnekaelliott and on Facebook. Go to her blog for more great content. For more of Interiors by Jacquin "Fashion meets Interiors" features click here!