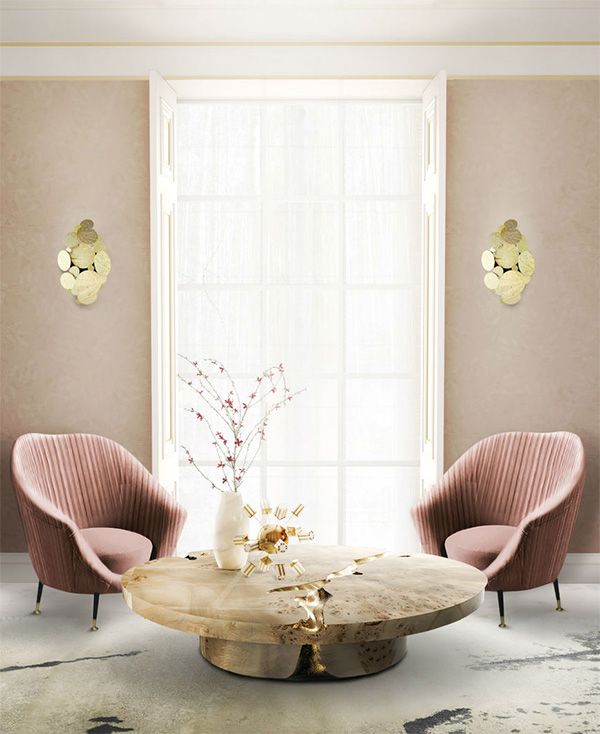 The impact that light fixtures have on a space is often underrated! Sconces are a particularly an underappreciated hero of lighting. They are diverse, and can be dramatic or subtle. The symmetry created by sconces can completely refine a space. Using sconces as a light fixture can frame, highlight, or be its own piece of art in any space. This blog post will show five (creative) ways to use sconces in your own home!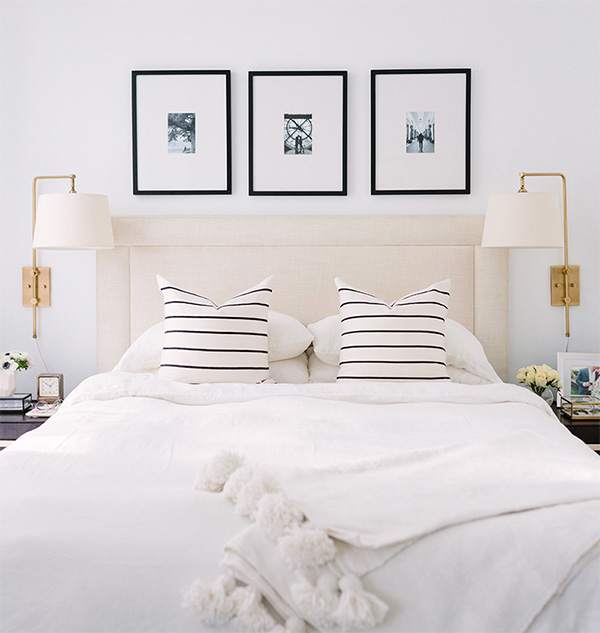 #1 – Use wall sconces in the bedroom: 
There is a sconce for every style bedroom. Sconces can be feminine and elegant like the ones in Alaina Kaczmarski's bedroom above. In contrast, sconces can also fit a modern and industrial space like the ones pictured below by Restoration Hardware. A sconce on each side of the bed elevates the typical bedside table aesthetic, introducing great symmetry while working well as reading light also!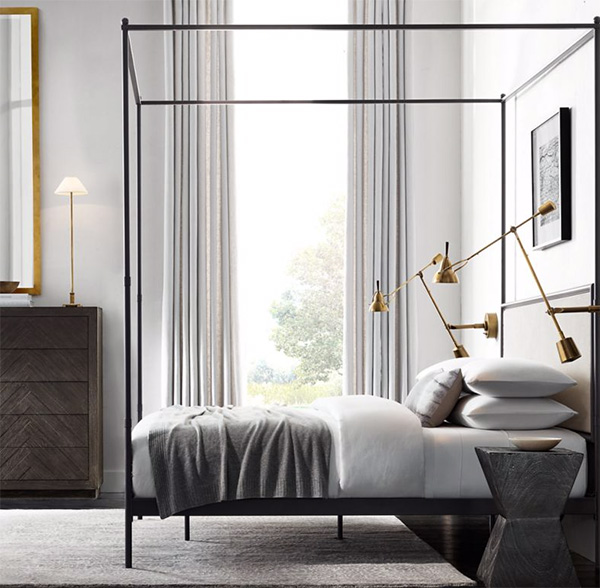 #2 – Use wall sconces outdoors:
Sconces can be used in various different outdoor contexts. Two sconces in an entryway add a symmetrical lighting and decorative element to a front door. Sconces can also create ambiance in a backyard outdoor entertaining space. A great way to add detail to a garage area is through sconces. The fixtures are decorative and practical in outdoor spaces.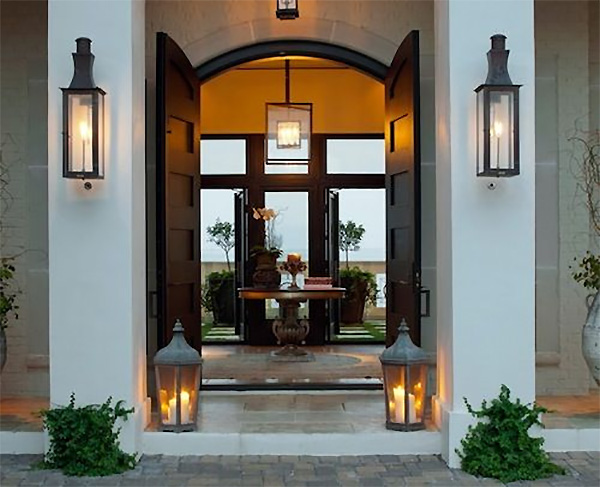 #3 – Use wall sconces to frame artwork:
Sconces can add dimension to wall art and gallery walls! Your sconces can even pull together the colors around the art to create a cohesive space. For example, the scones below pick up the gold accents of the room, making the photograph pop!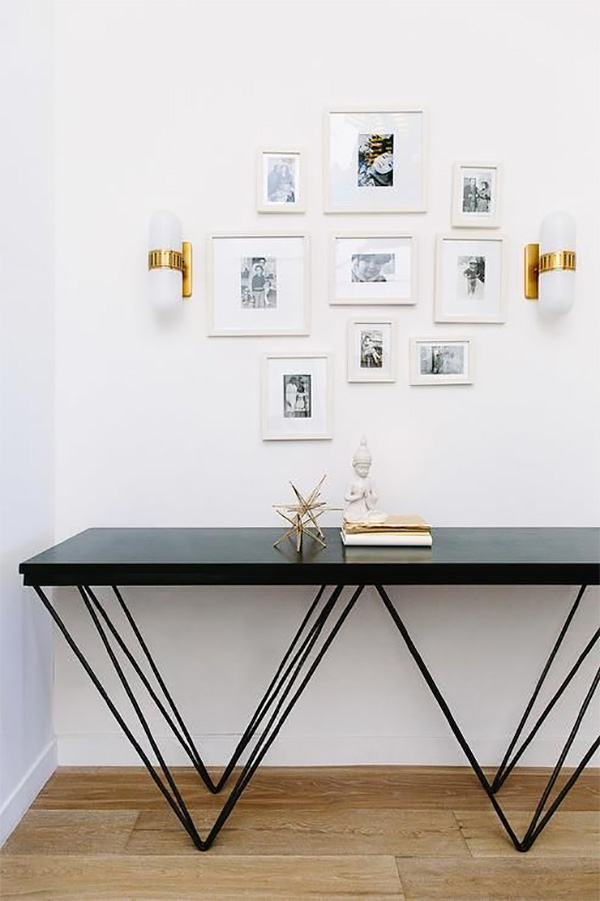 #4 – Use wall sconces for bathroom lighting:
Sconces in a bathroom can either be very fluid and subtle, or they can make a statement. Brass sconces create a bold and modern look in a bathroom, especially against the usual clean colors of a bathroom such as blues, grays and whites. They bring life and a contemporary touch to a neutral space.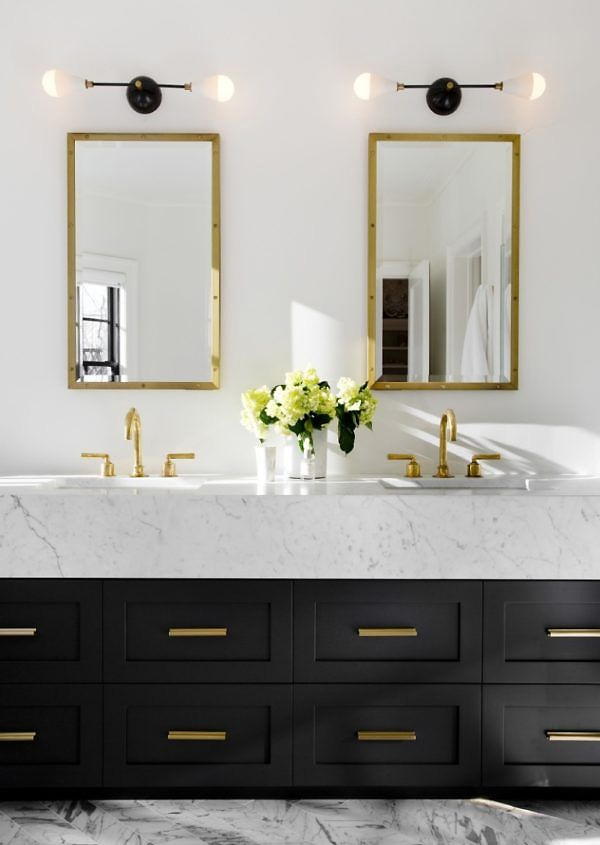 #5 – Use statement wall sconces as their own works of art:
There are so many amazing sconces out there that can hold their own as a statement decorative element in a room. With creative variations of sconces available like the Jonathan Adler Puzzle Sconce below, you can easily bring an art-deco elements to your space or go for another statement making sconce design.