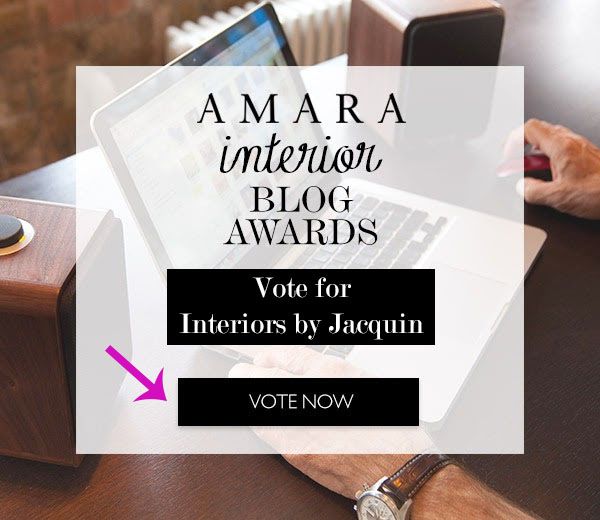 Hi everyone!  It's so nice to be chatting with you again today!  I have a tiny favor to ask you that will make a huge difference for me.  I'm nominated for an Amara Blog Award and I would be very grateful for your vote.  It's so easy too.  Pop over and vote now!  Just click here.  I truly appreciate it.  Thank you!!  Now back to your regularly scheduled post.  🙂
Chairish co. Shabby-Chic Challenge
I've been invited by Chairish, an online retailer for high-quality vintage furniture and decor, to participate in their Shabby-Chic Challenge.  Chairish even allows you to sell your vintage items through their website, which is fantastic. I was able to use any of the furniture and decor on their website to create a single e-design.  I must say that I saw many pieces that were very unique and special, which made this a pretty fun challenge!  
When it comes to shabby-chic, it's all about taking upcycled, vintage, and antique items and making them come together to create a chic and pleasant aesthetic.  The best thing about the shabby-chic decorating style, is that the look can really morph depending on your own personal style.  
Shabby-chic decorating tends to allow an individual's personal style and personality to shine through.  In fact, I think we can learn a lot about our style & preferences based on the type of pre-loved and antique furniture we select. When it comes to my style preferences for pre-loved & shabby-chic furniture, I must say it's all about originality and character.  Shopping at a place like Chairish is right up my ally because many of their furniture and decor items just simply cannot be found anywhere else.  So for me, I like to select the most original items, even with a few small dings because I believe this adds additional charm and character to a space.  
What you'll notice most about this shabby-chic challenge is that while I used primarily vintage pieces here, the room is far more chic than shabby.  This just goes to show you that shabby-chic doesn't have to be overly shabby, but can read more boho, rustic, ornate, or in my case today… a dose of mid-century modern!  Like what you see?  You can shop these Chairish finds below! 
Here are links to the FAB Chairish items in my design: