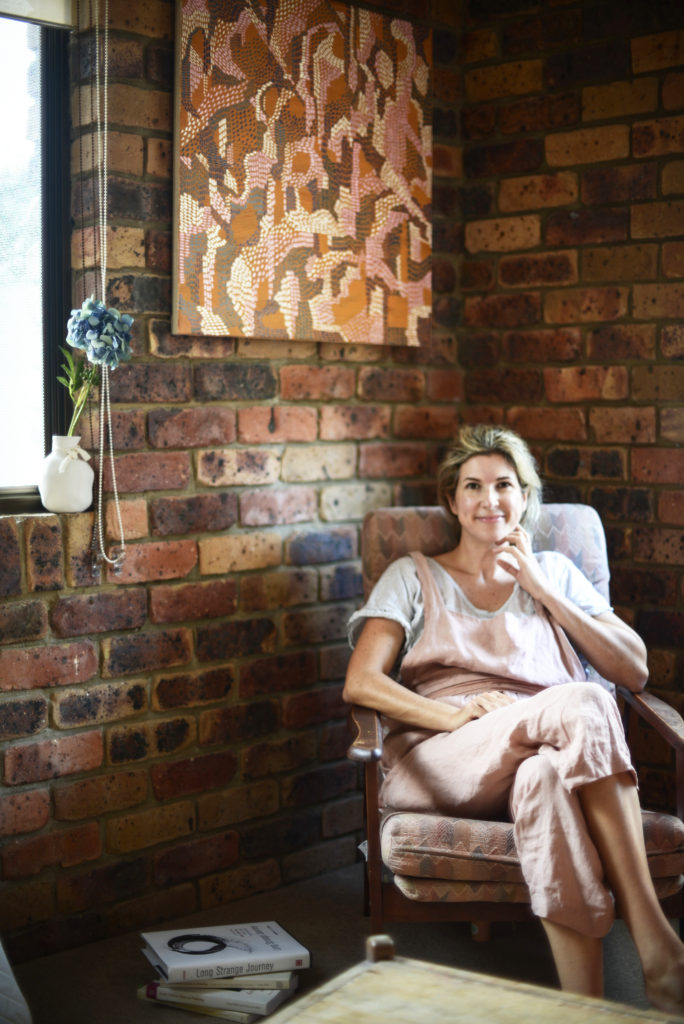 Georgina Hooper of Australia is a painter and art educator who creates delightful, yet meditative works of art from a calligraphic foundation. She is informed by a deep engagement with Eastern artistic traditions and the philosophies that underpin them. Hooper's signature style synthesizes Eastern calligraphic strokes with Modern abstraction, developed through a meditative repetition of strokes. I truly enjoy Georgina's warm, abstract paintings and I find that looking at them mindfully is a reflective and meditative exercise on its own. Learning of her works has peaked my interest in Asian calligraphic strokes as both a philosophy and technique.
Georgina creates vast and rhythmic matrixes in her artwork imbued with the forces and motion of nature. Her abstraction of landscape reflects her pursuit to represent the natural environment as a felt experience, where space is illimitable and incalculable, carrying a suggestion of the infinite. Inspired by the monumentality of nature and associated feelings of awe, Hooper's work evolves as immersive spaces for audiences to visually escape into.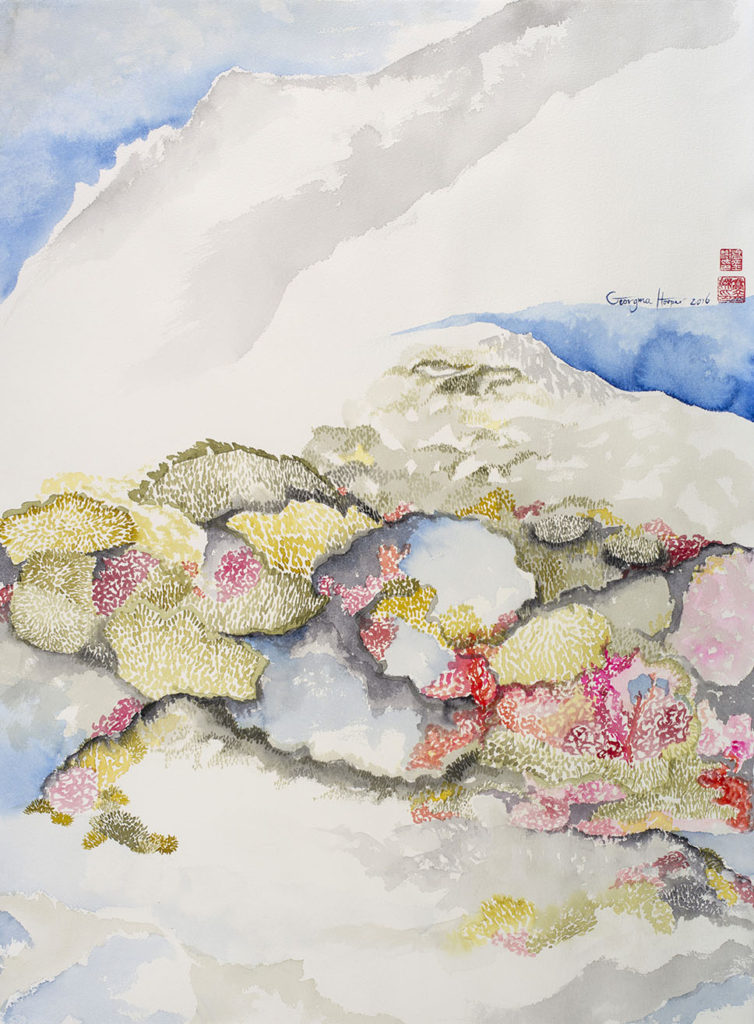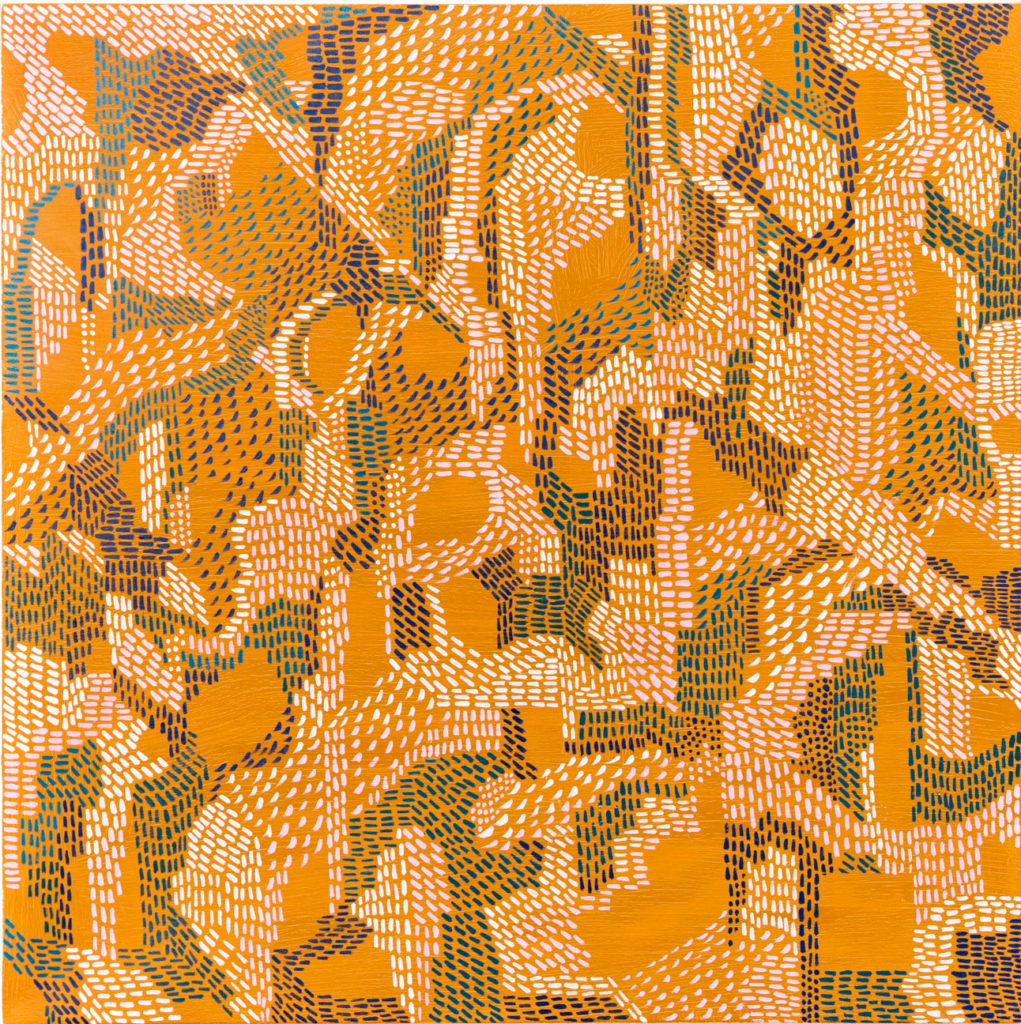 Jacquin: What do you most enjoy about having a career as an artist?
Georgina: There is a visceral pleasure about making art. The way that the eye responds to concentrating on wonderful colours, or honing the mind to focus on the steady hand or the pleasure of simply making is so wonderfully uplifting and extremely relaxing. I feel very fortunate to get to do this as my job. To immerse oneself in their passion and to follow that path in a way that takes you deep into yourself is such a rare thing. The work I do is also very introspective and philosophical. I've had the opportunity to learn about Eastern culture & history and work with my hands at the same time. As such I learn a lot about who I am too, which I think is a very healthy by-product of my work. It's a hedonistic privilege that not many people have, and a particularly essential one for me as I am quite introverted and find alone time very restorative.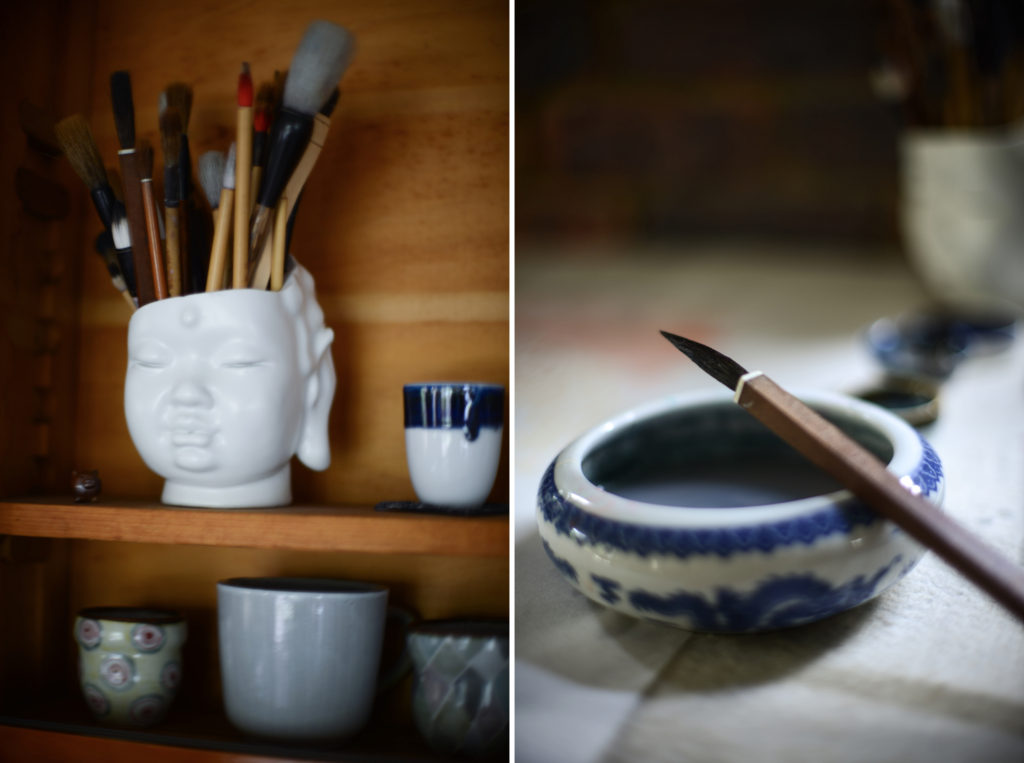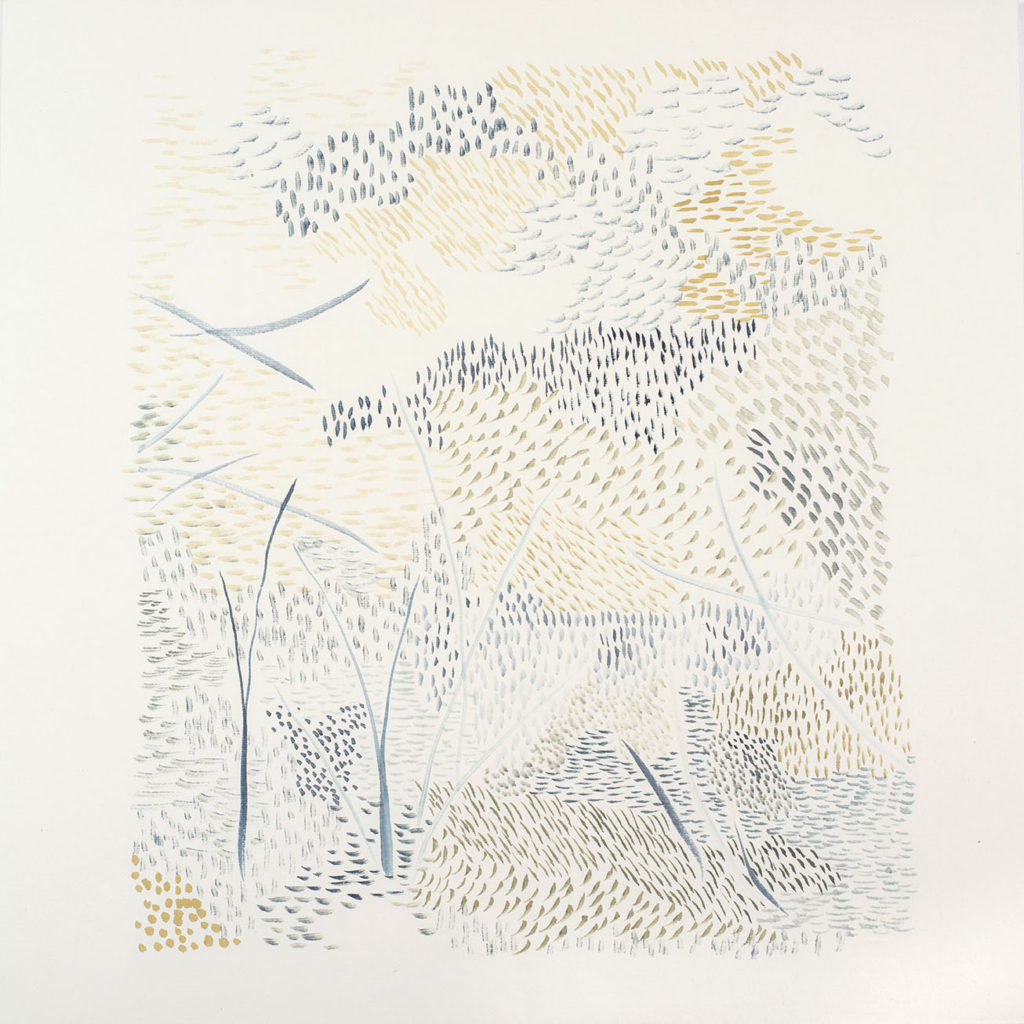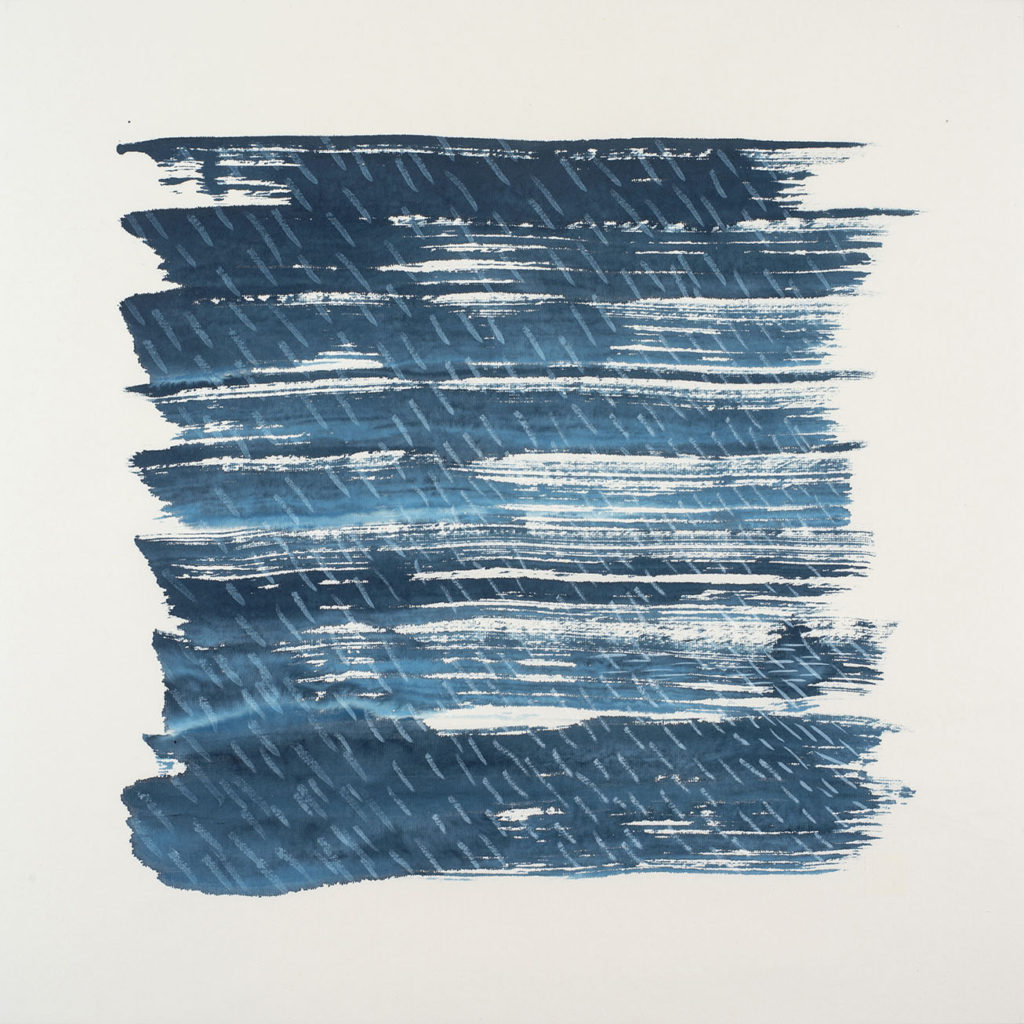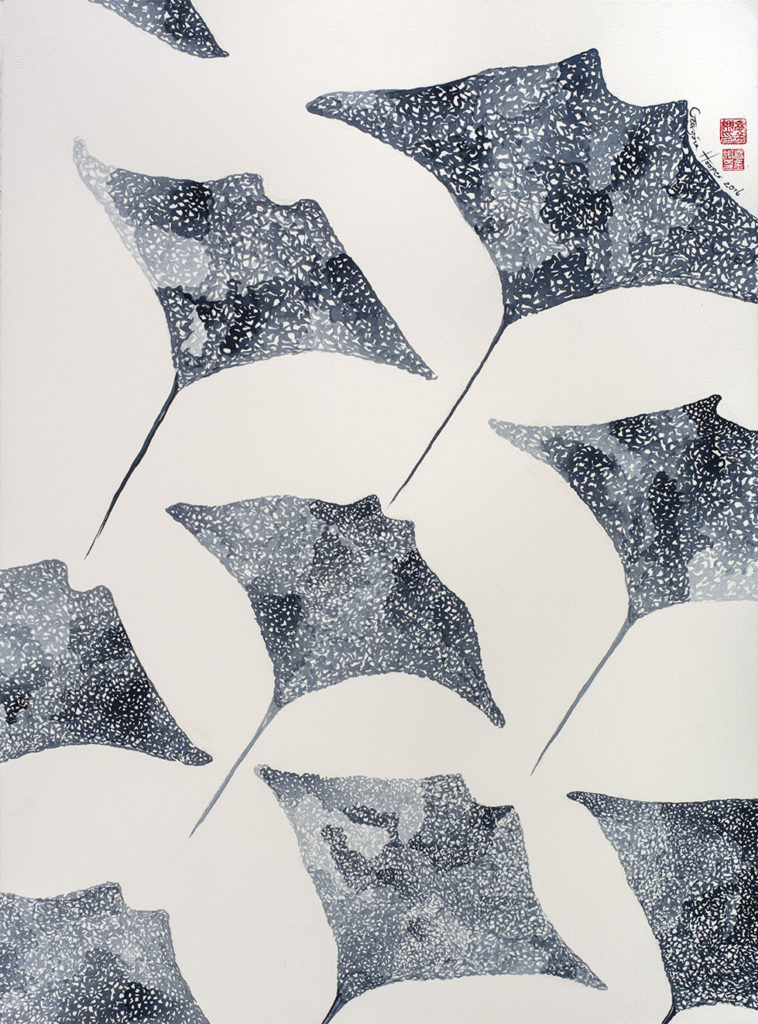 Jacquin: How has working as an art educator refreshed your perspective?
Georgina: When you are required to break down the process of creating for someone else it makes you highly reflective and conscious of the creative process. As a result, I became really interested in understanding the creative act and this has found its way into my practice and process.
Jacquin: How has Eastern/Asian culture and their artistic approaches influenced your work? How did your interest in Asian aesthetics in art come about (e.g. Chinese landscapes and Eastern calligraphic strokes)?
Georgina: The historical art of Chinese painting is tightly bound up with its philosophical and religious traditions. I had begun reading about Daoism and Buddhism as a teenager and strongly resonated with these belief systems. It was a natural progression that my art practice gravitated to the East though I am still amazing at the opportunities that have found me to make this possible. It has been the oscillation between academic study of art and the physical practice of it that has brought me to so much opportunity to immerse myself in Eastern art practices. It was almost a decade ago that I was offered a research scholarship by the University of Queensland to study Chinese landscape painting with Professor Dong Ya at Tianjin University. This set me clearly on my trajectory. I have been awarded artist residencies in China and Japan and have pursued higher research in Eastern Art with the University of Canberra. It has all meant that my career is something of a tango that steps towards my work as an academic one moment and then the next moment, back to my professional practice as a painter.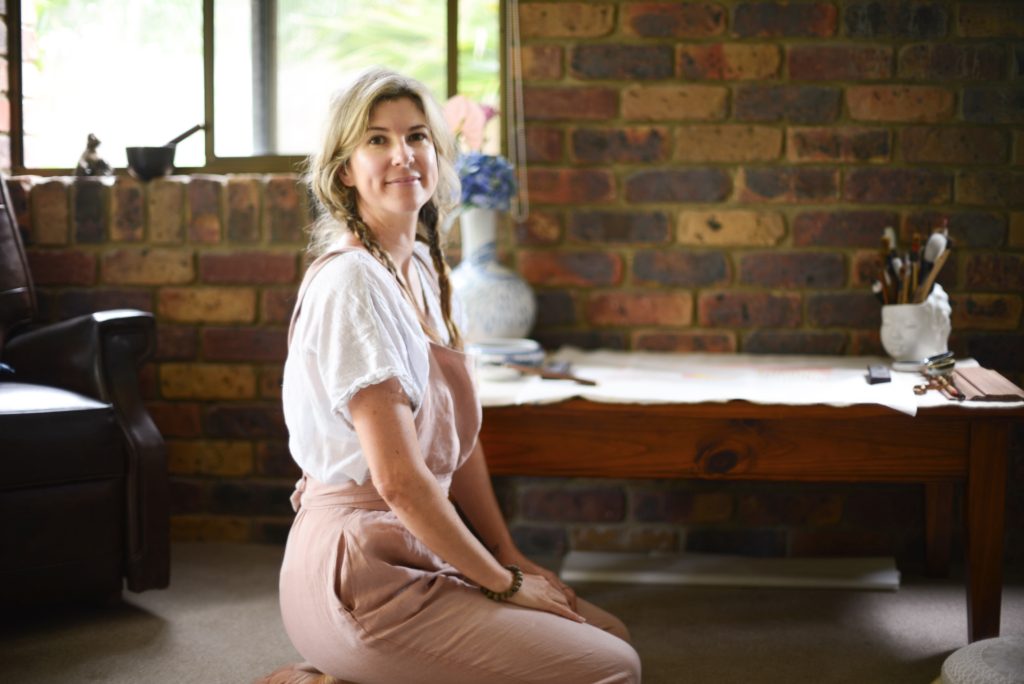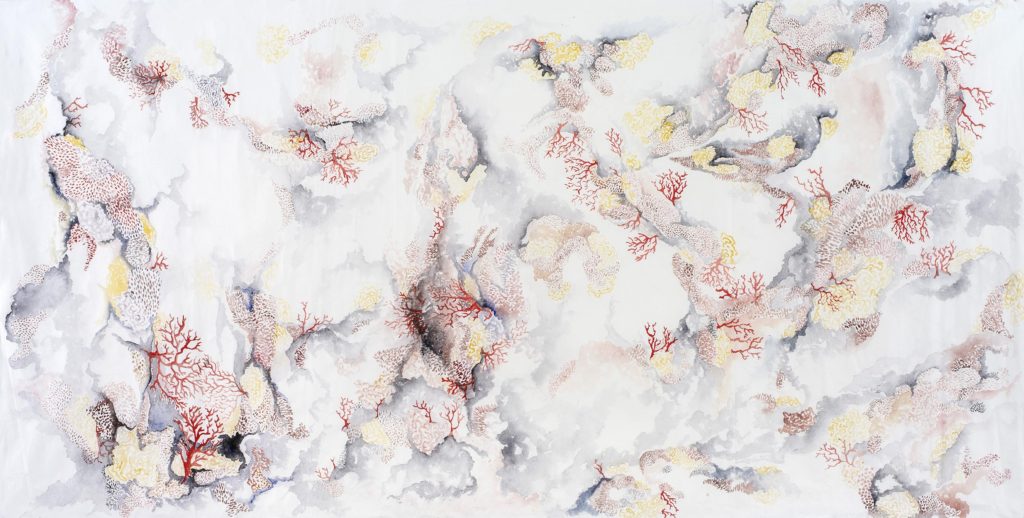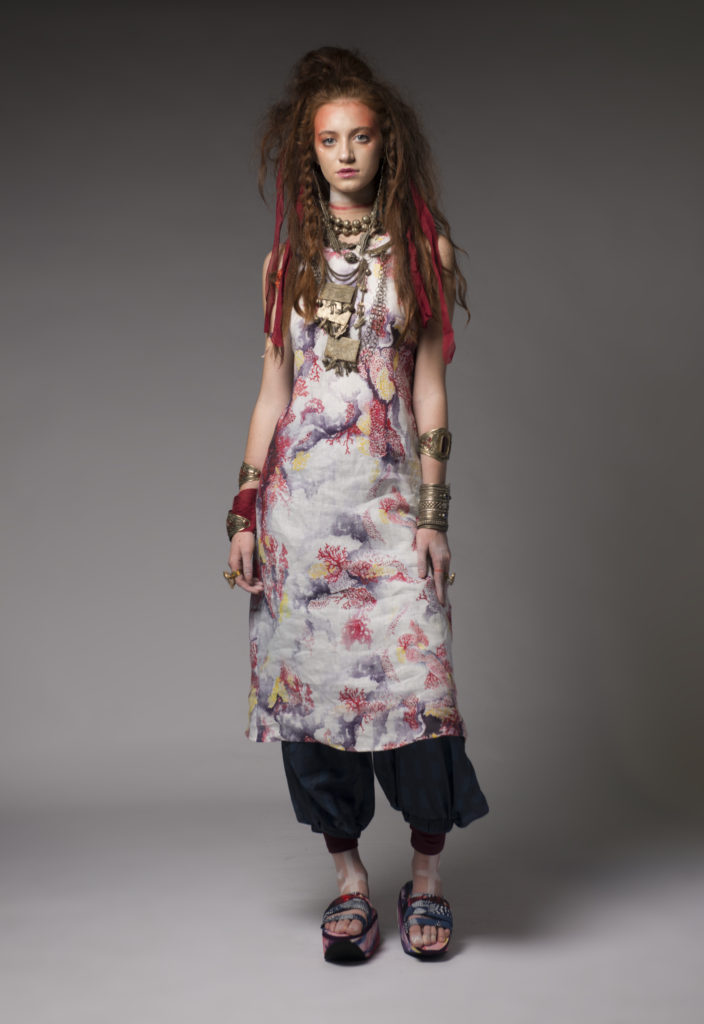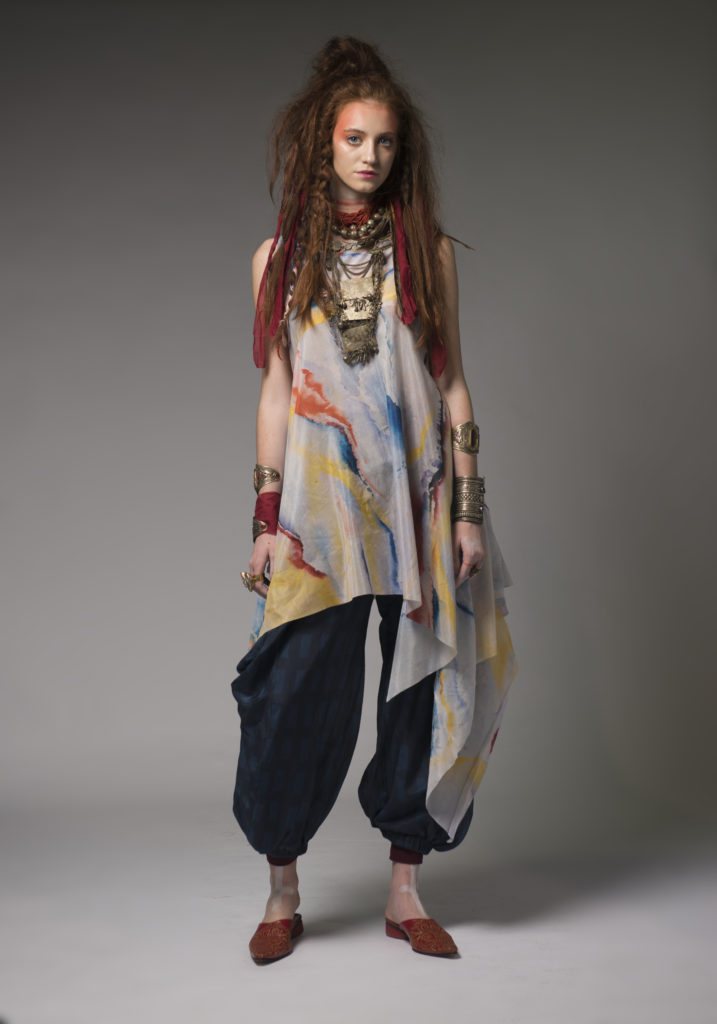 Jacquin: Tell us about your experience creating watercolor textile designs for your collaboration with fashion label Dogstar. What was most rewarding? How did your process vary for this collaboration compared to your typical process when creating a painting?
Georgina: When I started the project for Dogstar (above), creating paintings for textiles was a new artistic territory for me. Masayo and I worked very closely together on the process. It had a sort of evolutionary path that began with talks and plans and then after I began the painting I met with Masayo, we would talk and then I would return to the painting and continue until we had it right. I had a lot of artistic freedom but the compositional factors are different from that of a painting: the repeat, and the three dimensionality of the end product needs to be considered. In a way I had to forget all that I knew and change the way I viewed the image. As a result, the collaboration brought my work into some new artistic spaces. I think that this is a very healthy thing to do as an artist not to mention what a great experience it was to work with such a wonderful person and creative as Masayo.
Jacquin: Tell us about what you're working on currently.
Georgina: I am currently looking at applying for my PhD in Philosophy to deepen my understanding of Chinese painting through theoretical research. As a practitioner I have found that theory informs creative output and that there are times to collect knowledge and ideas that will later inform and shape the creative work. This oscillation between the rational and creative, and the theoretical and the practical is what allows me to expand my work into new territory and keep my work exciting and innovative. I have another collaboration with Dogstar in the works and am always continuing my work with ink and rice paper as daily mediation.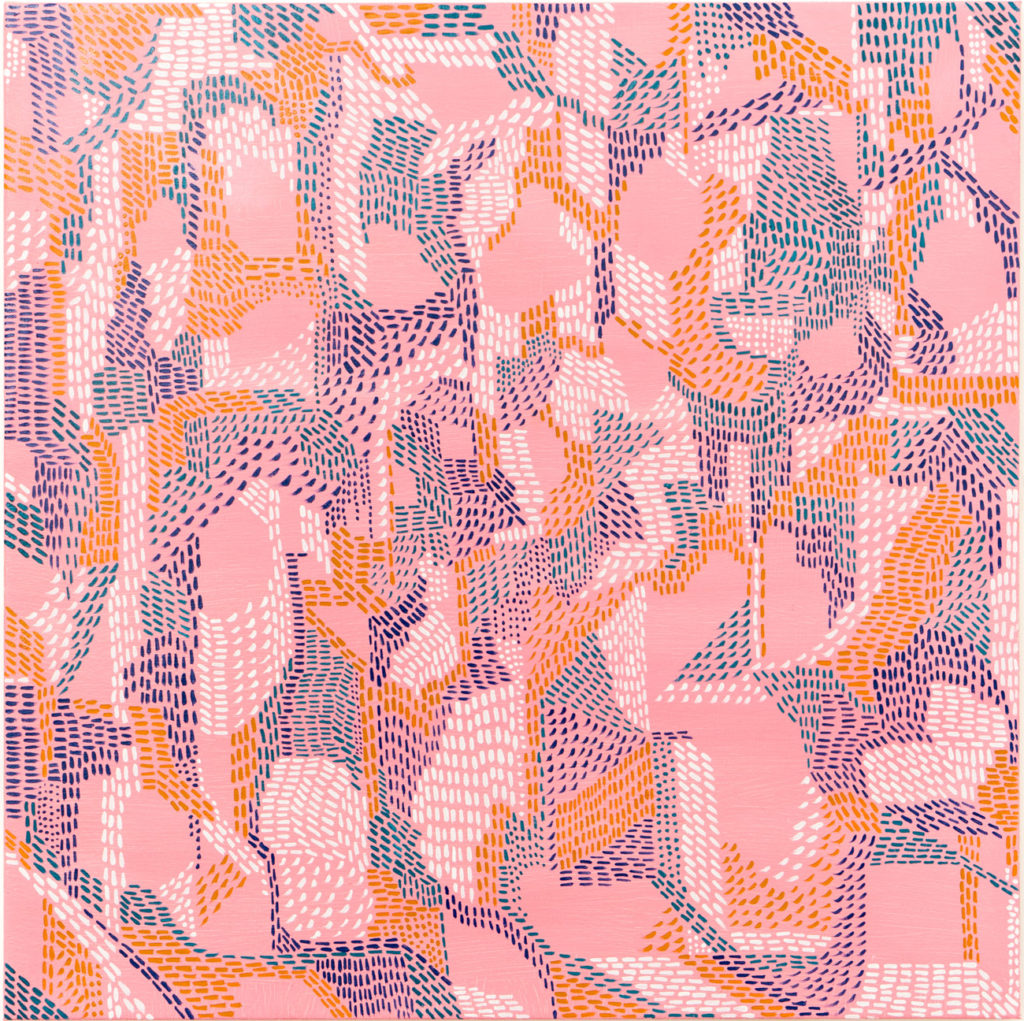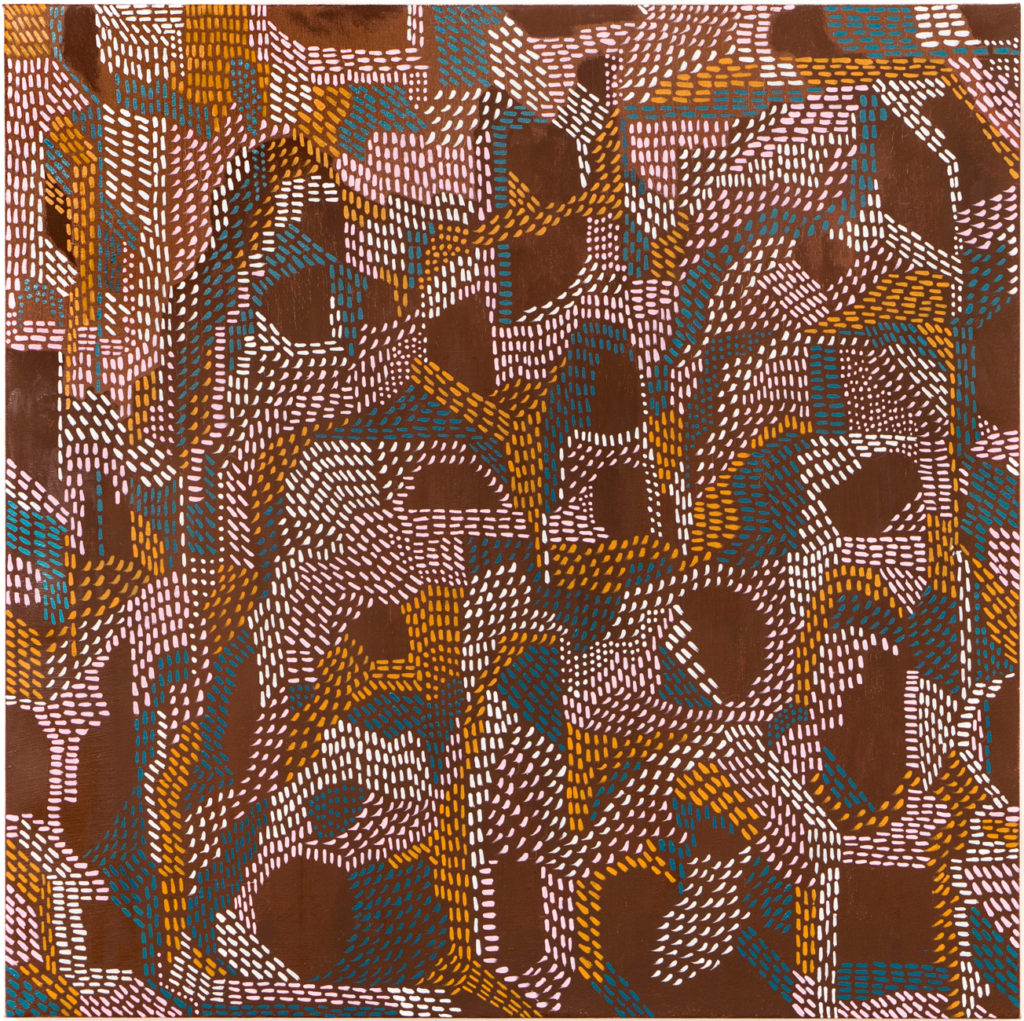 Jacquin: Tell us about your training in Asian style calligraphy as you developed your signature style.
Georgina: The calligraphic strokes that underpin much of my work was part of my training in Chinese landscape painting. One of the first things my Lao Shi (teacher) explained to me was that those calligraphic strokes were the foundation of all Chinese landscape painting. Painting and writing were inseparable historically, with painting giving birth to writing. In my practice over the years since working with Master painter Professor Dong Ya at Tianjin University I had moved away from the tradition to explore it in a contemporary way. But during my honours research with the University of Canberra I explored Chinese landscape painting in relation to the European philosophy of the sublime. Part of my research engaged deeply with the treatises from Chinese painter-critics dating as far back as 34AD and these texts reminded me of the importance these calligraphic strokes. I took my honours year to focus on them, synthesizing Modernist abstraction with the calligraphic underpinnings of Chinese painting and became so familiar with them that I realized they held limitless potential for expression.
Jacquin: What would be a dream project for you as an artist?
Georgina: I want to see my work on a grand scale and to see what affect it has on audiences when it is received at that scope. To paint an immersive matrix floor to ceiling in an exhibition at the Museum of Modern Art in New York would be a dream.
Learn more about Georgina Hooper and her latest works on her website.
Follow Interiors by Jacquin on Twitter and Instagram