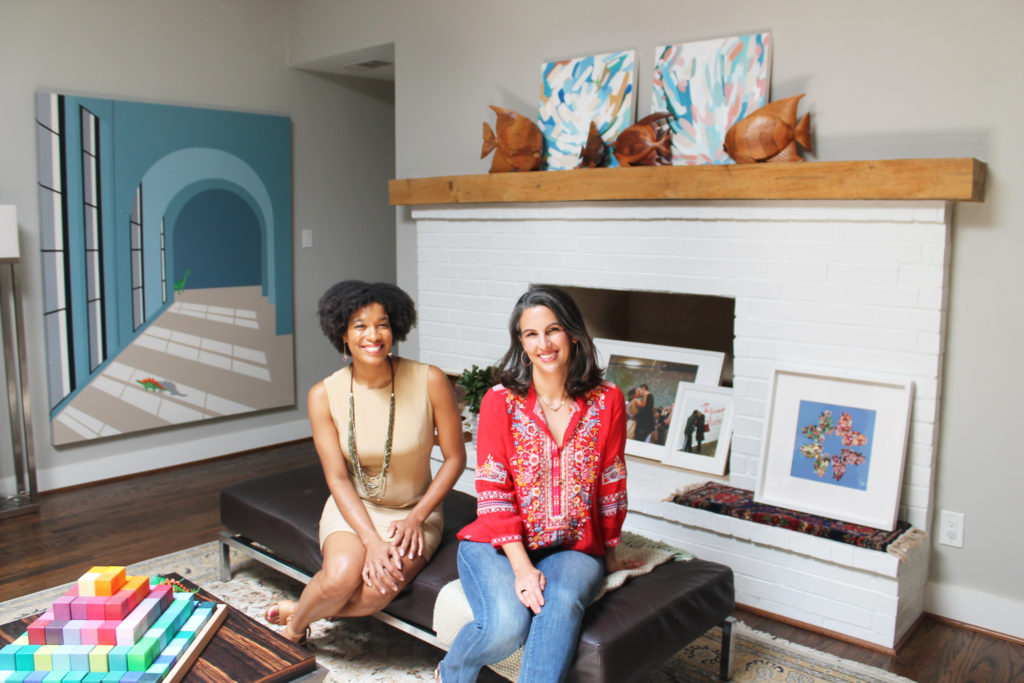 It is always a pleasure to see the home interiors of creative artists, and today's exciting feature is no exception. I was thrilled when artist Mione Plant welcomed me into her home for a tour and discussion on her artistry. Mione Plant is an engineer turned artist with a whimsical, illustrative approach to painting. Her artwork is inspired by a childlike sense of wonder, and most surprisingly, an extensive collection of stuffed animals! Read on to see how these inspirations have come together in creating the home decor and colorful paintings of this artist. Mione's style at home and approach to painting definitely highlight the heart and interests of this artist.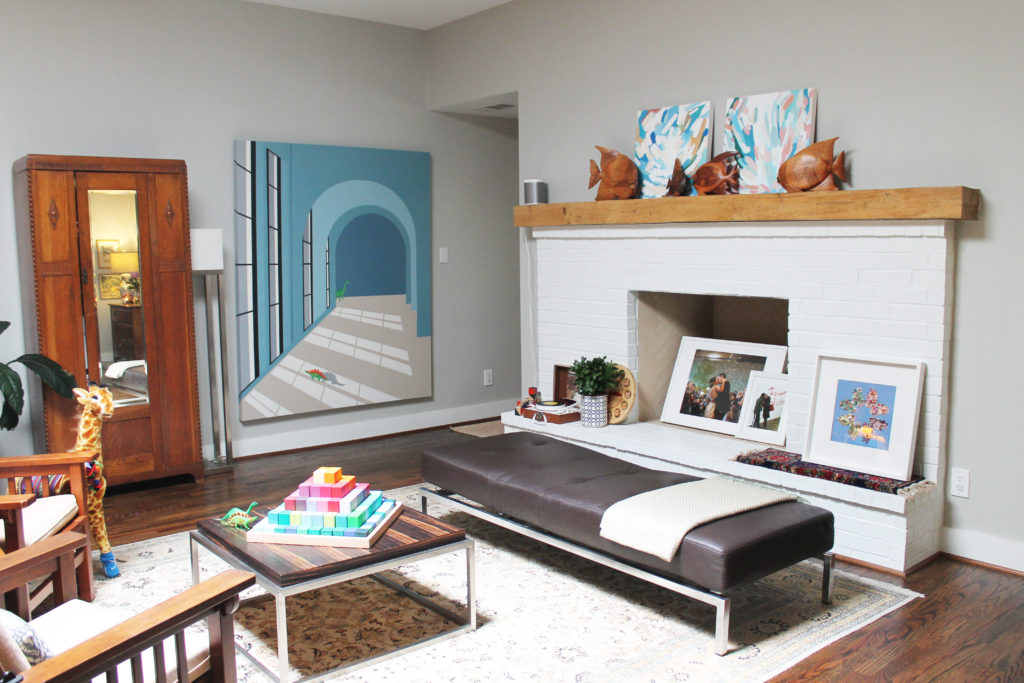 One of Mione's primary inspirations when it comes to selecting subjects for her paintings happen to be stuffed animals. Mione is mom to a three year old son who influences her daily as she observes how he discovers the world around him, while getting so much joy out of his toys and stuffed animals. The real feat may be that Mione has even has managed to incorporate these furry toys into her home's decor with style and ease. Mione's interest in a more whimsical approach to life is a thread you'll find tying together both her home style and art style.
Mione's painting "Follow Your Bliss" (above) is the focal point of her warm and inviting living room. This artwork was inspired by a plastic, toy dinosaur, which makes a surprising appearance in this playful work. Mione's living room is light and bright with loads of visual interest and creativity to capture the curious mind.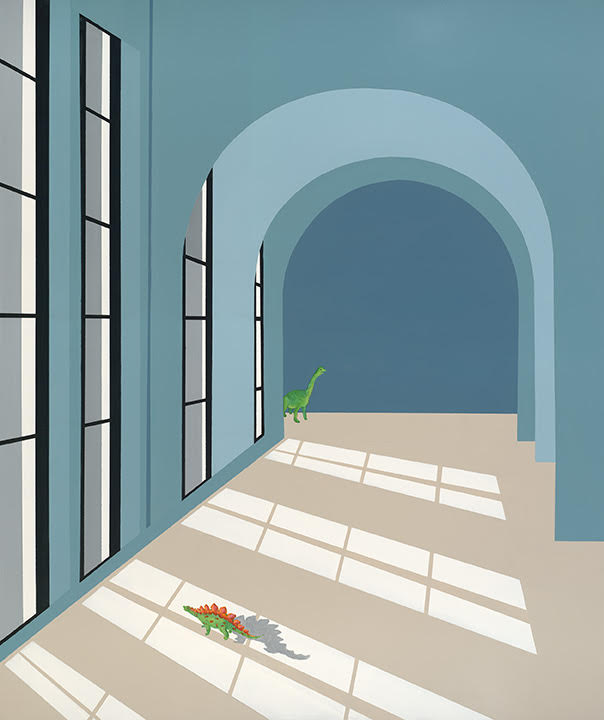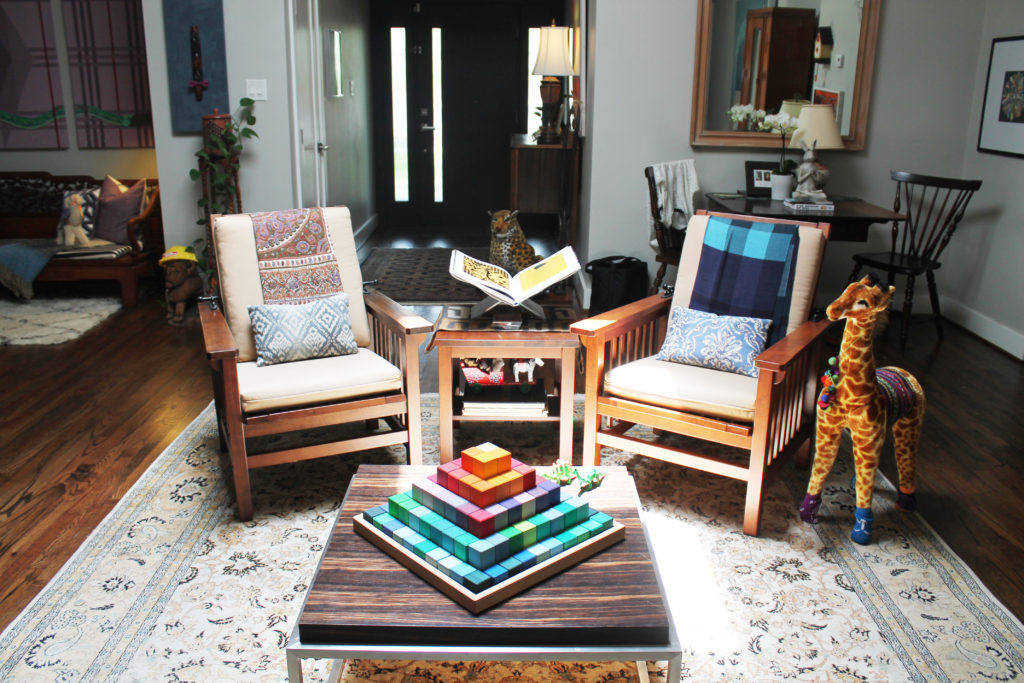 "I love to surround myself with objects and mementos that will catch my eye and evoke the feeling of childhood. Inspiration from these playful objects consistently find their way into my work. I strive with my paintings to connect us to the happy innocence of our younger days, while simultaneously telling the story of our adult pursuit of meaning and purpose."

-Mione Plant
Don't miss the lips on the wall in Mione's kitchen! Her playful, contemporary art collection is continued into her kitchen as well. I also enjoyed the African inspired textiles in her kitchen and dining area. She has creative inspiration around every corner in her home, which is perfect for an artist who works from home. You'll get a peak into Mione's home studio as well.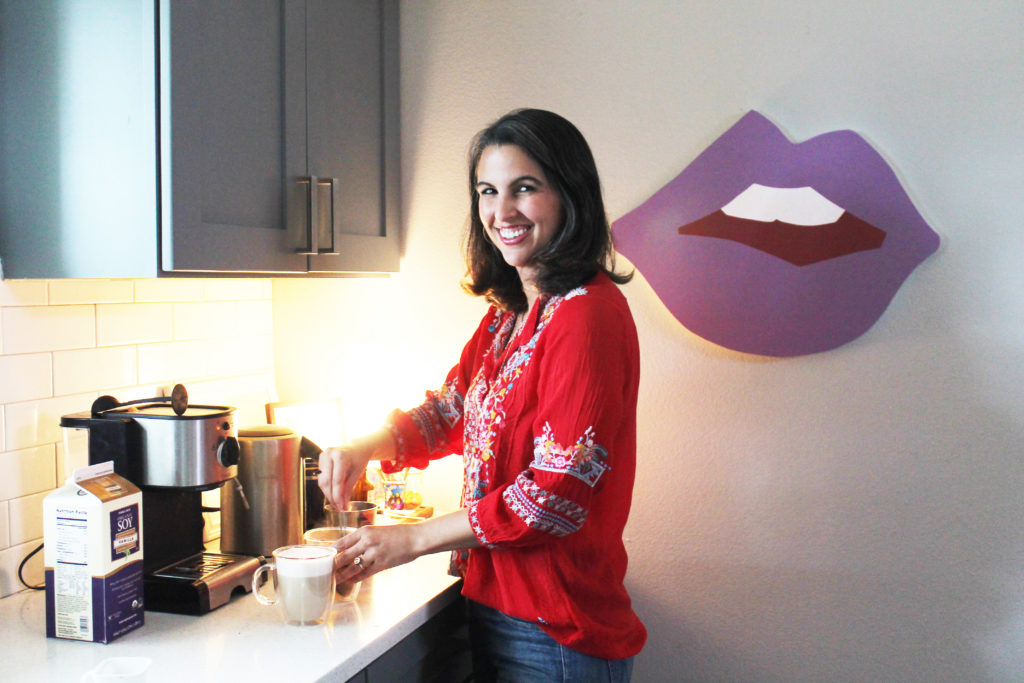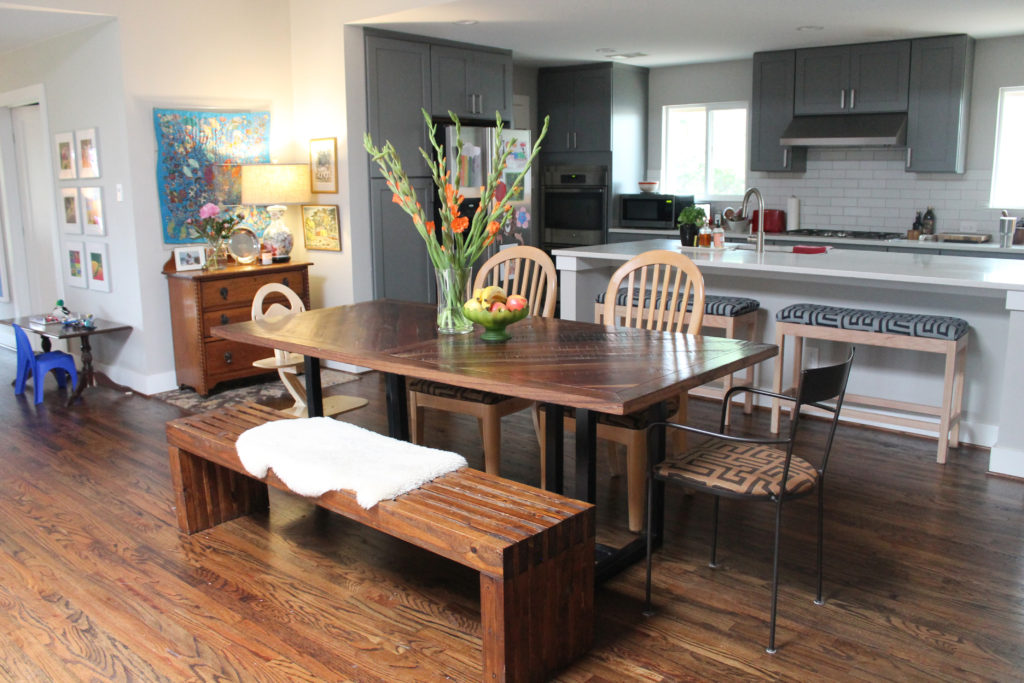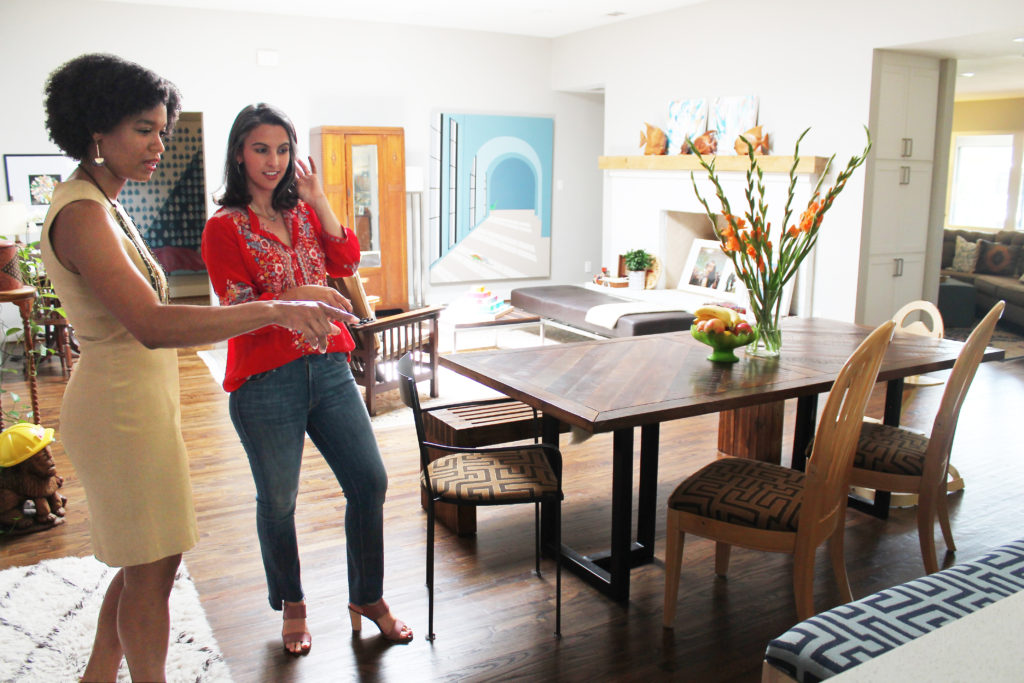 As you continue browsing Mione's home tour you'll find that these playful stuffed animals make an appearance throughout. Below you'll see two whimsical characters that appear in both stuffed animal form and in painted form in Mione's guest room. You'll definitely spot them on your own, but in case you need a hint, they're a stuffed monkey and llama! I love how both of these paintings turned out. They both add the perfect pop of color to this sunny space.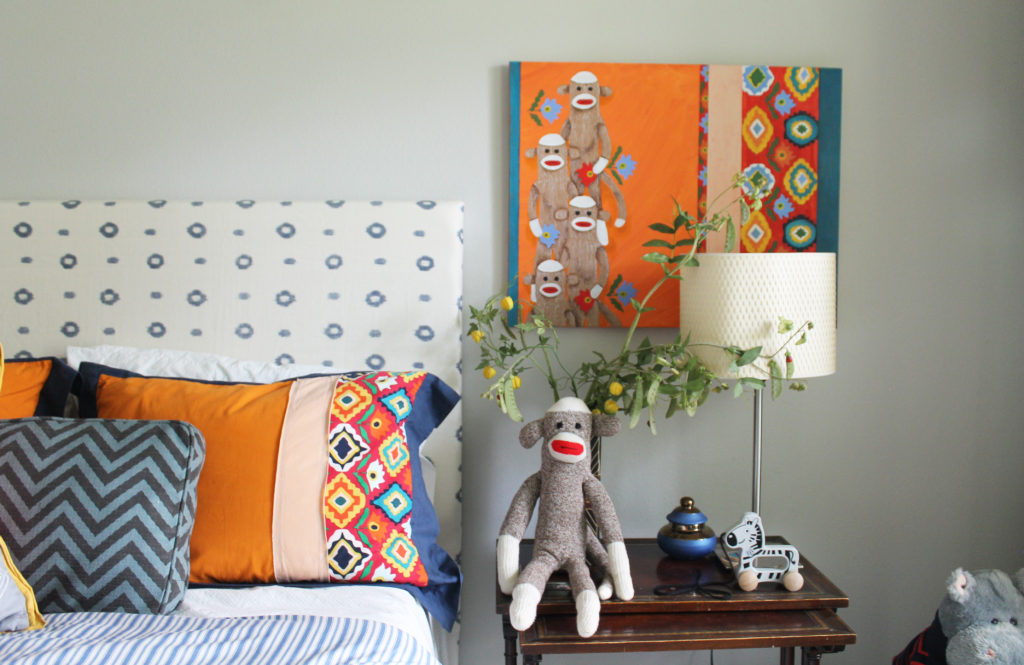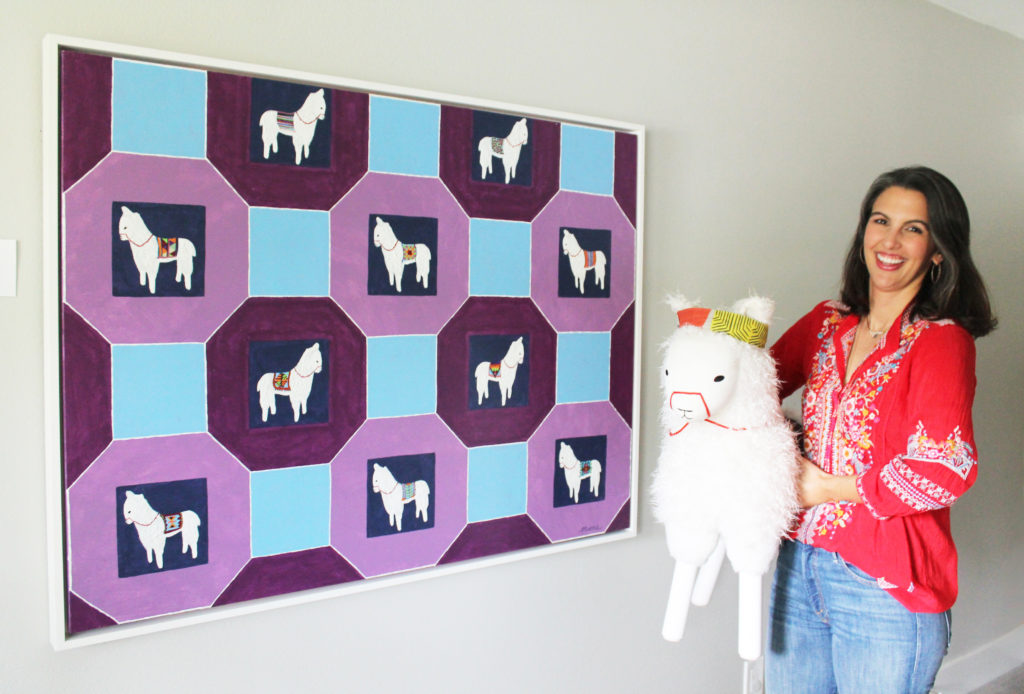 Mione also has some interesting family heirlooms on display in her home. She has included these small pieces of history within her home's decor which represent various members of her family from her parents and beyond. It was a treat to see the black and white fashion illustrations her mother created hanging in Mione's bedroom alongside African artifacts brought back from beloved relatives. As you continue to browse you'll spot an original Mac computer on display from her Father-in-Law, which is another whimsical pop alongside artwork by Mione's son.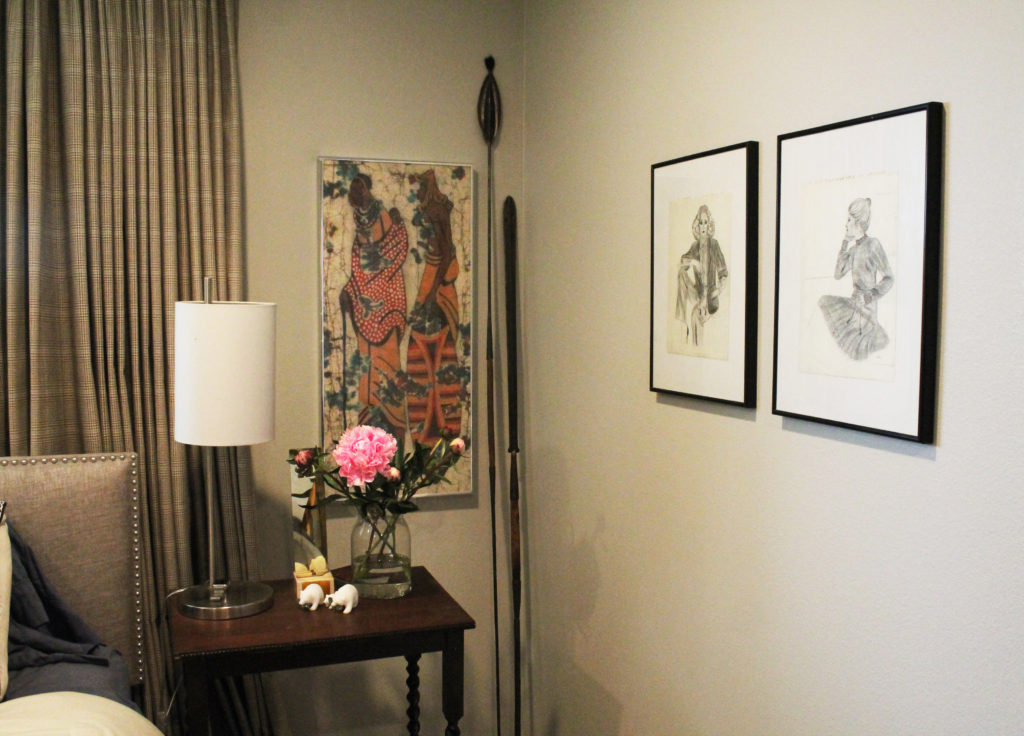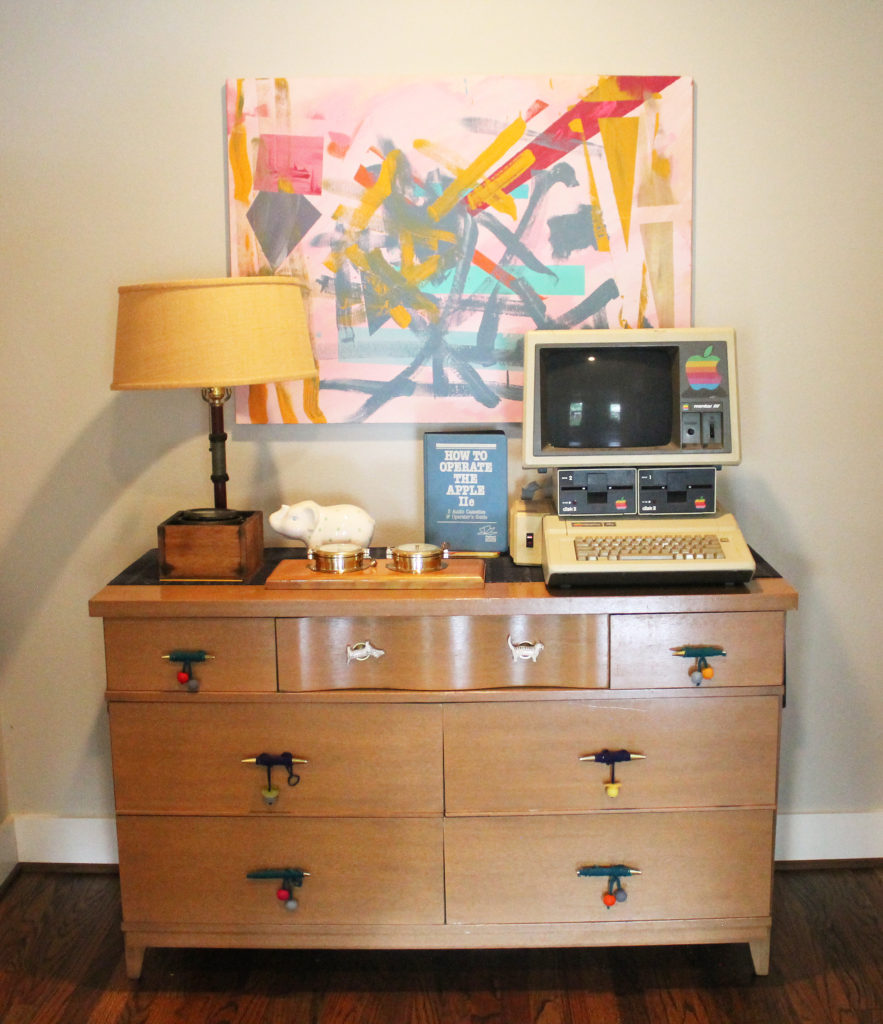 Mione's decor and artwork selections all contribute to a space that provides constant inspiration as she creates her playful art. Mione works from home and has created an in-home studio where she creates her large scale paintings. I also had the opportunity to tour Mione's studio space, while learning a bit about her creative process.
Mione worked as an engineer for over 10 years for a Fortune-500 tech company before transitioning to her creative passion. Mione's engineering background is definitely present in her artwork, which utilizes precise angles and formulas while maintaining a childlike, whimsical feel. It turns out that Mione's engineering background was the perfect secret weapon as she launched her artistic career!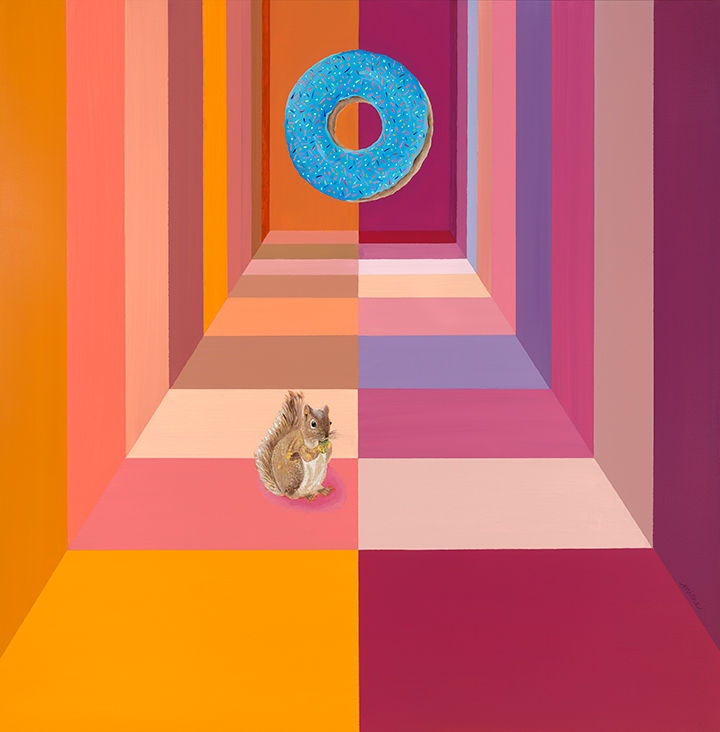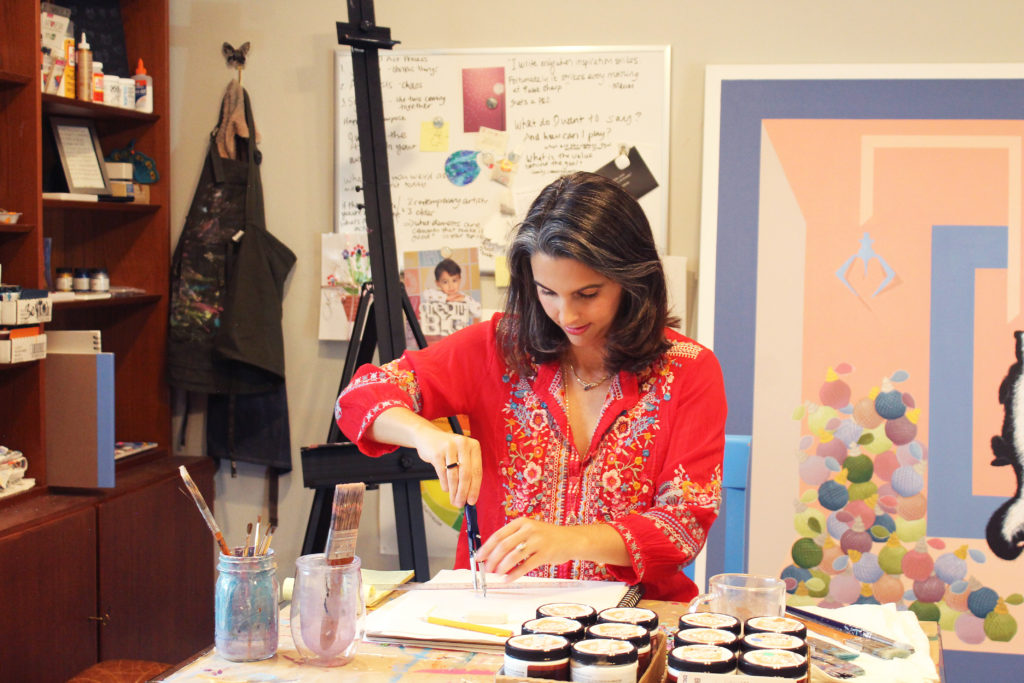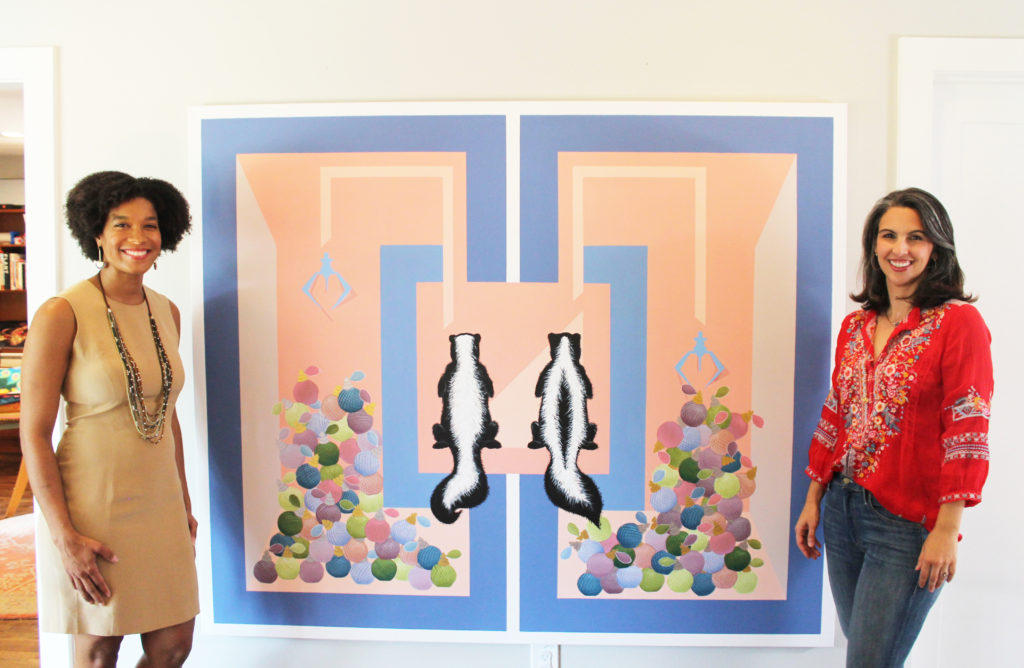 If you are loving Mione's artwork, you can find her paintings for sale on her website in addition to at the Maestri Gallery. Maestri Gallery is a fabulous art gallery in Dallas that is definitely worth visiting, not to mention, your visit provides a great opportunity to see Mione's artwork in person before making your selection. Be sure to subscribe to catch our next home tour and artist spotlight features. Thank you to Mione Plant for showing me around her lovely home!